Designing a brand identity involves digging every aspect of the brand, from the logo to the selling materials. It begins from the background of the business carried to the brand name, the message it communicates, support system, and anything else that will make it outstanding in the competitive market. You need to have a strong brand identity to push through to the masses' favourite brand list. Below are some of the ways to find your brand's identity.
1.) Research On Your Target Audience:
Knowing what your audience wants and needs is very important when identifying your brand. Having information on what your customers want will help you communicate in the language, conditions, and style. Researching on your customers' needs simplifies the whole branding process.
2.) Define The 'Why' Supporting Your Brand:
After researching your customers' needs, rate your company. Know what you want to offer to your audience. Evaluate reasons for your products or services. Will your product improve your clients' experiences? Why do you think the products or services you offer are necessary. You need to ask yourself such questions to know what's the best identity for your brand.
3.) Pinpoint Your Brand's Personality:
Once you know your brand's mission, you need the brand's personality that fits that position. This involves understanding the kind of impression your business will bring out. Have an imaginary brand spokesman and ask yourself how you would like him to be out there. From that, you can picture what consistent description you will want your brand to have across the marketing channels.
4.) Develop Emotional Interest In Your Brand:
Knowing how to connect with your customers to leave an unforgettable picture in their minds is essential when identifying your brand. What emotions do you want to trigger when your customers use your product? Does your brand make them want more of your services? Having answers to these questions will help you build your brand's identity.
5.) Develop Your Visual Brand:
Determine a unique colour shade that fits your brand identity concerning what you offer. Choose two or three complementing fonts that will represent your brands. Find compatible imagery choices. Design a logo that captures every aspect of your brand. Give your brand an exceptional visual appearance without too much exaggeration. Furthermore, you can even consider custom company apparel to create a corporate culture around the office.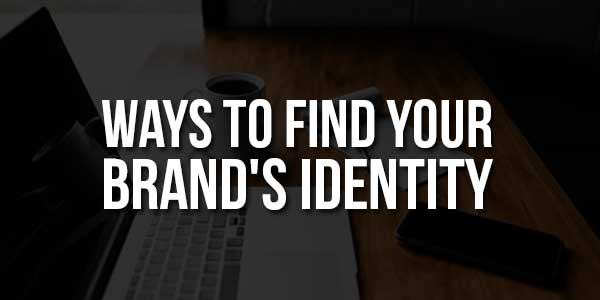 6.) Keep Your Brand Consistent:
Consistency is the most analytical technique for selling a brand. Maintaining consistency in the competitive market can be challenging. Being thrown out of the call will negatively impact your brand. Being persistent in the market will help improve your brand's identity because your product is always available for your customers throughout the years.
7.) Develop Product-Specific Core Values:
You cannot deliver everything to everyone. You can't provide every service in the world. Having product-specific core values will help in finding a suitable brand's identity for your specific product. If you want to deal in electronics, you can find the best identity from the core values in electronics. Trying to give everything will make your brand lose focus.
8.) Have Information On What Is Trending:
Taking benefits of trends is mainstream in current marketing strategies. You can acquire information on trending ideas on social media platforms. Social media provides all sorts of knowledge about product brands and what is new in the market. You can also get customers' reviews on other brands. You can use this information to develop a unique customer-friendly brand identity by taking into account relevant information from social media.
9.) Research On Most Popular Brands:
It is a good idea to know what top business brands are doing to maintain their popularity. You can research the brands top listed on web stores to get a good idea of what does and does not work. Knowing their mission, logo, and core values will give you insights into what is needed to develop an excellent brand identity.
10.) Monitor Your Brand To Maintain Its Brand Identity:
Keeping track of your brands performance in the market helps in maintaining your brand's identity. The use of surveys, comments on social media, Google Analytics, gives a sense of how and what people think about your brand. You can use the information to improve or correct mistakes in brand identity.
Conclusion:
Brand identity lives in the minds of your customers. It also creates credibility among competitors and trust among your customers. Unique and outstanding brand identity will make your brand popular and build new customers' confidence in your products and services.