You might have come across social media marketing guides that tell you how to come up with great content. Many businesses worldwide have less than a hundred subscribers on their Facebook pages.
This is because of the following misleading marketing guides. Social media marketing needs a lot of smartness, discipline, hard work, and great strategies. But you can always use some help.  Click on Subscriberz to get the best deals for your social media efforts.
To achieve business success, you should avoid the social media marketing mistakes listed below.
Let's get started:
Deleting Negative Comments:
You must have seen many brands engaging in nasty conversions and then deleting the whole thread. Deleting negative comments is the most childish thing you can do.
Be mature by showing your audience that you don't have anything to hide. Ignore negative comments from generally toxic people.
Being Boring:
For you to lose it on social media marketing, be boring. You have to up your game by showing people your products and telling them how they are. If you don't know how to make your page lively, ask your audience or find inspiration from excelling creators.
Not Having Your Target Audience:
To build a fruitful plan, you need to know your audience. Many businesses are failing because of generalizing their audience. For instance, most Instagram users are between 18 years and 34 years, termed the millennial generation. This generation loves memes, and you need to steer your social media campaign towards that niche. Knowing your target will help you in creating the right content.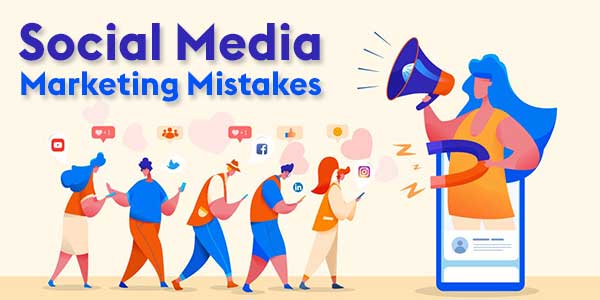 Buying Followers:
Ethically, it is not good to buy followers. Buying followers goes against the guidelines meted for all social media networks. However, buying followers is tempting, especially if you have few people following your business page.
Buying followers could result in marketing platforms such as Facebook deleting your account. This is because fake accounts prevent posts; hence your original subscribers won't see the posts. You should know that you are chasing conversions and not subscribers.
Use Of Irrelevant Hashtags:
Use hashtags if you want more exposure. If you want many people to see your account, you can incorporate your brand in trending conversions. It might sound simple, but there is an adverse effect, especially if it is a mistake. A slight mistake can cost your brand because even deleting the post can be retrieved through a web archive. Always stick to relevant hashtags, especially if you're not sure of which trending hashtag to use.
Having The Wrong Tone:
You can behave how you want on your social media profiles but not when doing marketing. You should choose a good brand voice that is not boring but official to engage with people. Being too casual to entertain social media users is a great sin. Therefore, to connect with your audience, you should take the time to choose a good brand voice before posting on Instagram or tweeting on Twitter. Hemingway App will help to check on this.
Working Without A Plan:
It would be best if you had a master strategy when it comes to social media marketing. Understand your possibilities and business goals first before engaging in social media marketing. Also, you need to know how to market your posts and who your audience is. Otherwise, you'll fail in social media marketing.
Final Thoughts:
Social media marketing is not easy as it may be assumed. It requires hard work and great strategies. Working without a plan in Social media marketing is like driving a car but ignorant of its fuel consumption. The same way that a car won't reach its destination is the same way marketing your brand will fail. Finally, your business will succeed if you avoid the above social media marketing mistakes.