If you are designing a website are eager to know how to make it, here we shall discuss a few of the effective web design tips that are proved by research.
1.) Website Speed:
The speed of your website is an extremely important factor. If the speed of your website is slow the users will not stick to it for a long time. They will switch to other sites having good speed. Users are very much concerned about the speed of the website because nowadays everything works on quick mode and people are used to it. It is recommended to invest in the loading of the website so that you may get maximum traffic on your website.
2.) Fold In Website:
There are different opinions that are prevalent about the fold of the screen. Some say the fold of screen does not matter these days as devices have come with multifold screens but still the importance of fold does not affect at large. Research suggests that 72% of people do not look below the fold and just stick to the information provided above the fold. It is recommended to adjust the content that matters to you in the available space. Following are the tips to adjust the content in an available space.
3.) Headline:
It is recommended to use a descriptive headline that must be clear to the reader. There must be no vagueness in it. Highlight the benefits of your product.
4.) Media:
It is recommended to use images, videos, and audio in order to engage the visitors.
5.) Hick's Law:
Hick has given the law that states "when the individual is given more choices". He/she will likely take more time in making a decision. Research has proved this law through different experiments. It is recommended to follow Hick's law while designing a website. The menu items on your website must below. The fields of the form must not be in great quantity. Also, you must not put every social media icon on your website for a good impact. Put only those icons of social media platforms where you are active. It is also recommended to put only one goal on per page. There is no need to put multiple goals of an organization on a single page.
6.) Simple:
Simplicity has always its own aura. Do not make a complex design of your website as research suggests that users certainly lose interest when they encounter visual complexity on the website. So keep it simple. Do not put nonstandard layouts for giving a different pattern. Stick to one standard layout that visually appeals to the viewer.
7.) What To Avoid:
It is recommended to not put the carousels, sliders, and tabs as research suggests that are useless because visitors do not often click every slide and your content on such tabs and slides goes unnoticed.
8.) Priority:
Research suggests that visitors often prefer scrolling over clicking. So adjust your content in one long page that includes every important information about your product.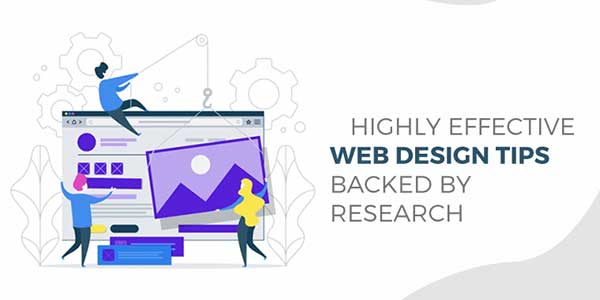 9.) Visual Patterns:
It is a fact that a person gets more attracted to a visual pattern than a written text. That is why children are usually taught through visual patterns. You can guide the visitors by adding visual queues or images to the website.
10.) Pictures:
It is recommended to add pictures of people that must not be stocked photo) because users are attracted to human pictures more than anything. You can add the pictures of your team on the 'About us' section of your website. People are more likely to click the human picture because it is natural for every person to connect with other human beings. Also, you can add the background image of people working in your office. There are many ways you can incorporate for putting a picture on the website. Make sure the pictures you are adding to your website are real and genuine.
11.) List Order:
Listing order also affects the attention of visitors. Though listing is an amazing way to put the information in sequential order. Research suggests that in any list, the things that remain memory are the ones that are written on the top and the ones that are present at the end. Middle ones are most likely to flip from the memory. So it is recommended to put the important and necessary features of your product on the top of the list so that users get more inclined towards them.
12.) Approval:
This can be taken as social proof that others are using and recommending your product. You can put the social proof on your website mentioning the number of purchases, shares, or views. It is basically other's opinion about your product, service, or content. So you can add positive feedback on your website.
13.) Use Of Colors:
It is recommended to use a color that contrasts with the background. It is a fact that people cannot read the content that they can not see. So use colors that complement each other. You must have seen that the content of the book is usually written in black color because the background color is white and black is easily readable on the white screen. So in order to design a website, you must know to use good colors. While picking any color, keep in mind the audience because they are the sole target of your entire website.
14.) FAQ:
It is highly recommended to put the FAQ section on your website as it brings a lot of information to new visitors of your site. Keep updating the FAQ section and make it relevant.
15.) White Space:
White space is usually the space between the text and images. Make effective use of the white spaces and eventually, it will bring more visitors to your website.
16.) Image Size:
You must be adding images on your site and usually, images have a large bandwidth. So it is recommended to optimize the sizes of images because images having larger bandwidth take a lot of time in loading. Also, optimization of images will lead to clear pictures appearing on the screen. Suppose you are putting an image of hotel Chester hotel hell, then you must adjust it according to the available space, and more importantly, it must be clear.
17.) Contact Page:
Do not forget to add the Contact Us page on your site. This is the page that is of prime importance. Contact us is an opportunity to explain that why visitors should contact you. It is recommended to add every contact information instead of just relying on the contact number.