Chatbots are changing the face of customer communication. These virtual assistants automate repetitive processes accurately and economically. Consequently, 80% of businesses plan to include chatbots in their communication strategies in 2020.
But, AI chatbots have a flipside. There are privacy concerns about chatbot-collected customer data and cases of faulty sentiment recognition by bots. Chatbots have polarized the technology community with its pros and cons.
To give you a balanced perspective, we have outlined some of AI chatbot benefits and challenges below:
The Benefits Of AI Chatbots
The market is brimming with competition. To survive, every business needs to provide an exemplary user experience to its customers. At the same time, brands need to cut down overhead in order to maximize revenue. This is where chatbots score over humans.
1.) Chatbots Are More Productive
Chatbots can handle more customers than humans. They don't exasperate customers by putting them on a long hold or by answering their queries insufficiently. These programmed assistants work tirelessly around the clock to provide quick answers to your customers. 64% of netizens say the 24-hour service provided by chatbots is their best feature.

2.) Chatbots Are Cheaper:
Let's face it: businesses need to make money to thrive.
Chatbot development can seem a pricey deal at the outset, but it can reduce operational costs in the long run. Shane Barker outlined ways by which chatbots can save businesses a lot of money. Here's a synopsis:
Decreased telephone costs: If chatbots are your customers' first point of contact, call volume to your call centers can drop considerably. This can reduce your operational costs by up to 30%.
Reduced labor costs: This happens in two ways. First, if bots replace a part of your human workforce, you scale down your employee retention costs. Second, if your business grows, scaling up your bot comes out cheaper than hiring, training, and paying new employees.
With bots, you don't pay any overtime or suffer revenue loss due to human errors. No wonder 40% of mobile interactions will be facilitated by smart agents by 2020.
3.) Chatbots Are Universal:
Chatbots are loved by people of all age groups. Surprisingly, Baby Boomers (aged 55+) are 24% more likely to use chatbots than Millennials (aged 18-34).
Chatbots can find applications in almost all industries and all departments. From banks to eCommerce websites, everyone is using chatbots to automate mundane, repetitive tasks. While customer service is the most-explored application of virtual assistants, other departments stand to gain too.
Chatbots aren't confined by geographical borders, either. A Collect.chat survey found chatbots on websites in the U.S. (36%), India (11%), Germany (4%), the U.K. (3%), and Brazil (2%).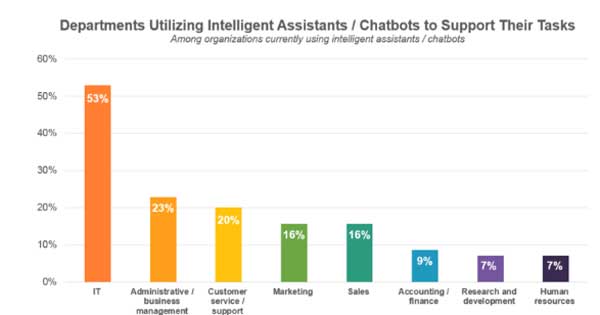 Challenges Of AI Chatbots:
No doubt, virtual assistants are gaining in popularity, but they lack in the following aspects:
1.) Data Security:
Chatbots are enabled to gather sensitive customer data such as email addresses and sometimes even financial data. This poses a serious security threat to users. As with all technologies, chatbots are also susceptible to hacking and data compromise. Companies can face legal issues for breach of trust and misuse of technology.
2.) Emotion Detection:
Chatbots are made to mimic humans. Some bots even have face and voice recognition capabilities. But even the most sophisticated bots aren't equipped to detect tone and emotions precisely.
Bots can misunderstand a customer's demands or psyche and mishandle the query. This can be counterproductive for companies.
Get a concise and comprehensive view of AI chatbots, their use cases, pros, and cons in the infographic on my blog shanebarker.com.