Today, MS Outlook is the most used email client in the world, there are reasons for it – a simple interface, advanced features than the most, and efficient working are the main ones. However, most of the Microsoft products are the reason for the user's frustration for hidden glitches.
As important as Outlook OST files are to manage your emails, some errors can come up to end your activities of daily work. These issues can cause problems like freezing, the problem with OST opening, sluggish working, startup issue, etc.
In this article, we will be discussing some related problems and quick fixes. If you are frustrated for continues problems in Outlook OST files, you must read our list of problems and their solutions.
Errors Have Been Detected In OST File:
OST files are the most important files for offline viewing of the mails. In the case of server downtime, users can view their mailbox without any interruptions because of the OST files. And when the server is back online, all modification made to the mailbox locally is merged with the mailbox stored on the server.
This means that Outlook is totally dependent on the OST files. But, there are times when OST files fail due to unprecedented error. This type of situation involves damage to the OST file which is not rare. And one such error is 'errors have been detected in the file xxxx.ost'.
If this error pops up while you are trying to open Outlook it means there is corruption in OST file. You need to quit Outlook and all mail-enabled applications and then use the inbox repair tool to repair the OST file error.
This type of error can occur due to the sudden termination of Outlook while the synchronization was in progress or it was affected by the virus.
Repair it:
Restore from backup
Repair using the inbuilt inbox repair tool
Use OST to PST converter software to repair it
Synchronization Issues With OST:
Mailbox synchronization with offline files is important to ensure the error working of Outlook. However, many Outlook users face errors when synchronization fails.
The OST file of Outlook email gets synchronized with the mail server every time it is connected to it. The speed of the synchronization varies and depends on the size of the data and Outlook versions. In most cases the synchronization between the OST file and mail server is smooth. But at times, due to bad network or some hardware errors synchronization can fail. And failure to the synchronization can cause damage to the OST file.
And the damaged OST file needs to be repaired immediately to get it working again. The solution to this type of error is to manual synchronization. Locate the folders and sync the folder-wise data and then use the inbox repair tool to repair the damage to OST file.
Use any third party Outlook OST to PST converter tool to fix this issue. The OST to PST converter lets you convert the damaged OST file into PST which lets you create a new OST file.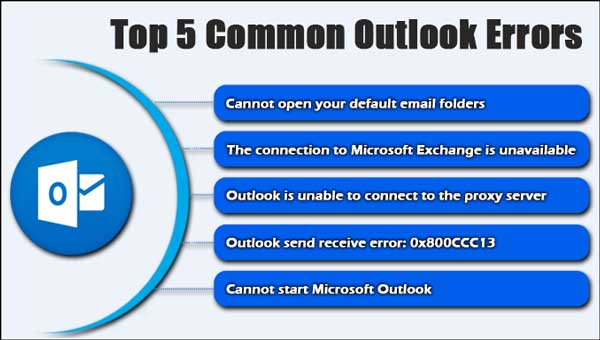 Outlook Crashes:
It's funny how something that is designed to help users becomes the cause of the trouble they are in. You might have come across the add-in for Outlook which claims to be helping you to make things easier but sometimes they do not work as advertised and make things even harder for users. And a corrupt add-in can cause the outlook to unexpectedly crash a few times.
It's so frustrating if you were to send an important email for your work and it crashes. To solve this problem, start Outlook in Safe mode and see if it performs better or not. If you suspect any add-ins, go to Outlook's trust center and disable them.
Outlook OST Has Corrupted:
OST (offline storage table) is an important file as we have discussed above. If you see a dialog box stating OST file has corrupted, you'll know it's time to do something different than just opening the Outlook. A corrupted OST file will lead to inaccessibility to all the data stored within the Outlook itself.
To resolve this error, you could scan the OST file with the inbuilt ScanPST.exe and try to resolve it. In case if you are not able to resolve the error, there is always an option of using the third party Outlook OST to PST converter. The converter lets you convert your damaged OST file into a new and working PST file which can be easily opened on the Outlook.
Unable To Expand Folder Error Of OST File:
When you work on Outlook in Offline mode, most of the time it works fine but sometimes it shows an error message 'unable to expand folder'. Well, if you have come across this error somehow then here is the complete solution to it.
This error is displayed when you have multiple accounts active in the Outlook. It can appear due to many reasons such as incorrect account setting, OST file corruption or incorrect mail profile. Usually, the user needs to fill out many details while creating Outlook account settings.
How to fix:
To fix this kind of error in Outlook, turn on the 'folder visible' option for Outlook mailbox. Follow these simple steps to do that.
Right-click the mailbox in the folder list
Click on the properties
Go to the permissions tab and check the folder option visible
And tap OK