Delayed product delivery or a refund status went missing, agents deal with all kind of queries and they make the customer service department rolling while standing on their toes all the time. Agents are the building stones of any business because they bring success with resolving customer's queries and help in retaining them.
A happy customer reaches that stage of being an advocate only if the agents have delivered the services that surpass all your competition. So, how do you take care of your agents? Your agents need the best call center software that allows them to get on board quickly and work smartly to align their performance with your business goals.
Agents are not just responsible for taking calls, listening to customers, solving their queries and head back home. They are the voice of the brand and their productivity defines the customer experience that you are delivering in the name of your brand.
So, How does a call center software solution helps agents?
Unified Agent Desktop:
Agents' experience is important to define the customers' experience. If an agent will keep on toggling off between the tabs while resolving a customer's query, she/he loses the customer's interest. With a smart tool like Unified Agent Desktop (UAD) agents can work more efficiently as they will see the entire information of the customer in one interface and they can quickly respond to customers while Average Handling Time (AHT) decreases significantly.
Auto-Call Functionality:
Agents receive calls one after the other that are answered automatically and they tend to lose the power of handling customers with same enthusiasm. Auto-call functionality allows agents to accept or reject the calls as and when they feel that they can take the call. Mike feels relaxed that he can take 1 minute to update the call disposition for the previous call before taking the next call.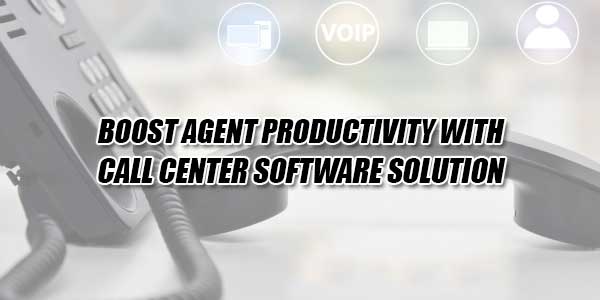 Integration Capabilities:
A call center software performs best when it is equipped with capabilities like CRM Integration because it helps agents preserve the context of the conversation. No customer likes to repeat their information and agents' repetitive question leads to escalation. When an agent is given customer's information prior to the call, she/he will know the customer's buying journey and will be able to drive the contextual conversation with the customers.
Quick Call Functionalities:
With the best call center software, agents have the flexibility of transferring the call to agents that are available in the queue and seek assistance when required. And it does not limit to call transfer, agents can schedule a call back for the specific date & time and they do not have to maintain a record of call back schedule. It is configured within the system, agents get notified of the call prior to the call initiation. Call disposition in CRM allows them to add notes or select disposition while they wrap up the call and they can follow up with the customers on these specified parameters.
Automating Call Distribution:
Customers do not like to wait. Smartly routing the callers on both active and passive channels using skill-based routing, that connects the customers to subject matter expert. Agents can utilize their skills according to their expertise when the calls are distributed through ACD routing logic. If agents perform well, your business will grow exponentially. When their skills are leveraged and they are given an edge. Enhance their capabilities with a call center software solution like Ameyo that helps them align their goals. Initiate a customer first environment while empowering your agents with smart technologies.