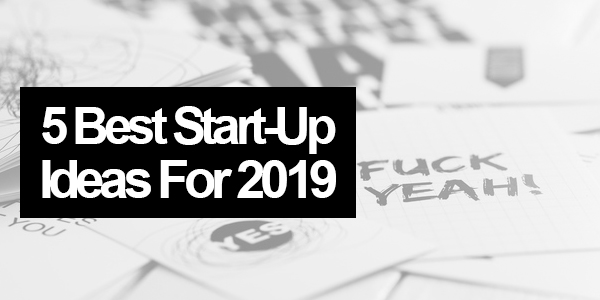 Nowadays, instead of looking for a job, people are moving towards entrepreneurship because they know that owning a business can help them earn more money and apart from that, business owners get to be their own bosses. Being an entrepreneur, you enjoy the liberty of having flexible hours and you get to live your dream that motivates you to work harder.
There is no doubt in the fact that success comes with time and effort and ambitious entrepreneurs are always willing to invest their time, money and effort in their businesses because they know that their hard work and effort will eventually pay off.
All the well-established businesses that you see today were small ventures that started in a garage or a university dorm room. For example, Mark Zuckerberg created Facebook in his university dorm whereas Steve Jobs used to build computers in a small garage. There are many individuals who want to start their own business, but they do not know what business would be best suitable for them. In this particular article, you will find seven business ideas to help you initiate your own business. Some of these start-up ideas are simple and can be managed along with your 9 to 5 job so that you can easily carry out your job until your business gets fully established.
Being an entrepreneur, you will come across several challenges and you will get to learn a lot of values and qualities like strength, humility, and maturity. So, would you like to start your own business by practically implementing your ideas?
1.) Education Industry:
If you are one of those lucky people who got to attend classes in a university, it is time to put that knowledge to use by tutoring others in exchange for money. The education industry is a great way to make money and it is considered to be a respectable career as well.
In order to spread the word and to market yourself, you can put notices around your university so that people can get in touch with you. This will help you utilize your free time and you will be able to strengthen your basics as well. Make sure that you are efficient in all the subjects so that you can attract a variety of students who are willing to learn different subjects from you.
Before you start marketing yourself, make sure that you know who your target audience is so that you are spreading the knowledge of your availability as a teacher to the right people. For example, if you are willing to teach children, your target audience should be their parents as they take the decisions on their children's behalf. On the other hand, if your target audience is college students, you should approach them directly because they can make their decisions on their own. You can also tutor online as it helps save travel expenses and enables you to reach out to a large number of people.

2.) E-Commerce Business:
You can easily set up an online business without any investment. The online market is at a boom and new businesses are entering the market every other day. This is the perfect opportunity for you to start an online business because people do not have time to travel all the way down to the store to buy something.
There are various products that you can offer at your website, for example, jewelry items, clothes, shoes, bags etc. Make sure that your website looks professional and you design the logo of your brand in such a way that it completely blends in with your company's offerings.
To promote your business, you can use social media platforms like Facebook, Instagram, and Twitter. Create a social media page of your business and come up with a marketing strategy to attract more people to your website because more traffic means more sales revenue.
3.) Social Media Consultant:
If you have the right knowledge regarding the marketing campaigns that take place on social media platforms, you can easily become a social media consultant. All you have to do is exploit the needs and requirements of the local businesses around you and pitch them your idea about how you can help them increase their sales revenue.
Make sure that you sign a contract with the companies with whom you are willing to work because most of the times, small-scale companies stop paying you after you create their social media page and all your hard work goes to waste. Therefore, always sign a contract that is at least 6 months long as it helps you gain stability in your business.

4.) Graphic Designer:
Recently, there has been a significant increase in the demand for graphic designers because companies have realized the power of online marketing and they want graphic designers to create visual designs that can help them attract more customers. You can work with multinational companies on a contractual basis, as it will help you get more business, which will lead to more money.
However, make sure that you do not take orders that you cannot deliver on time because this will lead to a bad reputation and nobody will conduct business with you in the market if the word spreads out.
5.) Customer Service Agent:
In order to become a customer service agent, all you need is decent manners and a fast internet service just like Media.com offers. Providing customer service can be very valuable for you in the long run because it teaches you how to deal with different customers from all over the globe. Moreover, as an agent, you can earn more if you are fluent in multiple languages because that way you can cater to the needs of various other clients who would be able to understand you better.
Conclusion:
In the end, it all comes down to your motivation and eagerness to work. Choose a startup according to your preference and work hard with your full determination because success comes with time and effort. As long as you are patient and willing to work hard, you will continue to thrive in the industry you choose to conduct your business in.