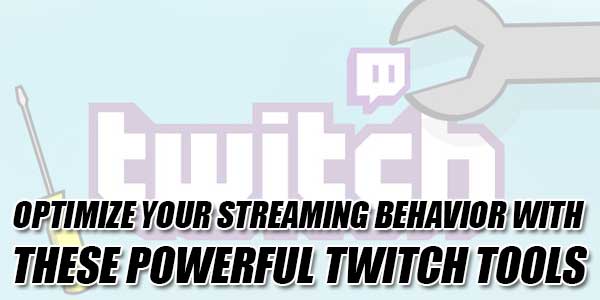 You want your Twitch Stream to get popular real quick and you're probably thinking: how do I buy Twitch channel views?
Well, you don't. If you attempt fraudulent techniques such as viewbotting, you are most likely to get red-flagged and lose the chance of getting partnered. You have to gain followers and increase the authority of your Twitch channel with good content and viewer interaction.
However, that does not mean there are no quick ways to run a better Twitch stream. In fact, all you have to worry about is your content. Let the tools below take care of the fancy overlays, cool bots, and whatnots.
Twitch streamers use overlays and alerts provided by plugins and tools to increase content value.
Best Tools For Twitch Streamers:
A lot of streamers spend more time on behind-the-scene aesthetics than on actually creating entertaining content. These tools will totally streamline your routine and refocus your energy on more important tasks.
1.) Chatbots:
Chatbots are your friends that automate message filtering and moderation. These tools can help you improve engagement with your viewers without having to buy followers on Twitch. You can choose from the following:
2.) Nightbot:
Nightbot is a background moderation tool that comes with spam filters. Its timed messages feature allows you to promote your social media on a set frequency. You have the option to create a group of regulars who will be exempt from spam filters. For a more entertaining stream, you can use this to fetch music from SoundCloud and YouTube.
3.) Moobot:
Created by Twitch Admin Moocat, this tool eases your worries over spam. Standard features such as moderation automation, scheduled messages, and links to your schedule and social media accounts can be used for free. Advanced functionality may require some monthly payment.
4.) Deepbot:
Besides chat moderation, deepbot can host minigames. These games give little rewards to your viewers which can entice them to keep visiting your channel. The downside with deepbot is that it tends to generate extra spam. Currently, deepbot is available in a closed and paid beta yet.
5.) Streamlabsbot:
This is a downloadable program that not only moderates your chat but also allows you a variety of functionality. You can manage the settings of your game's title, display quotes and automated messages, track your wins and losses and post on the stream, and host minigames among other features.
OBS Overlays:
You can download plugins from the OBS Project that allow you to put on overlays on your stream. Below are some that you can use:
1.) Input Overlay:
This is a useful tool to display your gamepad inputs live on your stream. You will find it really handy for tutorials and coachings where you want to show viewers some keyboard shortcuts and techniques. The plugin allows you to customize the display settings so that you can bend the aesthetics to your taste.
2.) Studio Status Overlay:
If you want to monitor your streaming or recording status, you can do so with this OBS studio status overlay. A customizable display, this plugin can keep track of the broadcast status, stream time and bitrate, frames per second, and dropped frames.
Donation Tools:
Bits and donations are easily managed on Twitch through the help of some tools. There are those that serve as a total streaming management tool. Others, like Streamtip, are specific to managing donations. However, NightDev, the developer behind Nightbot and Streamtip, shut down its tipping service on May 25th this year.
Another popular tool is TreatStream. It boasts of its simple, direct, and secure way of treating streamers to a full tummy. Some viewers like to give without having to share their personal information. TreatStream allows that.
Some donation tools are integrated into a streaming dashboard that also includes other functionality. They are described below.
Stream Management Tools:
There are a bunch of Twitch streaming management tools that you can use to view your recent statistics in terms of following and donations and tips or manage your moderators, among other activities.
1.) Streamfinity:
Streamfinity offers powerful Twitch streaming tools that can manage chat security and viewer engagement and monitor stream health. It comes with a stream calendar which you can use to inform your viewers about your upcoming events. The calendar can be synced with Apple and Google calendars.
2.) Streamlabs:
Formerly TwitchAlerts, Streamlabs can provide not only alerts and notifications but also tools to moderate your chats and manage donations. It has an interface that can be integrated with other applications such as Patreon or Tipeeestream.
Streamlabs is one of the most popular streaming management tools.
1.) StreamElements
StreamElements provides you a dashboard that shows your stats on followers, hosts, donations, and streaming health. It is a comprehensive tool that gives you a nice shortcut for managing your aesthetic preferences and overlays. It also has a built-in bot that allows beginners to set up a simple moderator bot.
2.) Teeboard
This Twitch toolbox acts as a substitute for the Twitch dashboard. With Teeboard, you can manage some functionalities in one place off your browser. It is great for adding aesthetics to your stream. You can change the design of the panel headers and other templates, and display follower stats, notifications, and subscriptions.
3.) Muxy
A great tool to set up a tipping service through Paypal without additional charges is Muxy. Not only that, this tool allows you to create subscriber and follower alerts and other notifications. The analytics it provides you is a huge help in calibrating your streaming events based on your viewers' behavior and preferences.
4.) Bebo
Bebo is an all-in-one app that takes care of your streaming needs, alerts, overlays, and chats. It is kinder to your CPU because it composes video on the cloud. It offers animated overlays to add more aesthetic value to your streaming.
5.) Streamjar.tv
Streamjar.tv does not only provide the usual alert services, it allows you to customize overlays, manage your tips, and share automatic giveaways. It can play custom sounds or show custom graphics whenever you gain a subscriber or receive a tip. It is free and does not take a cut from your tips.
Tips For The Uninitiated:
Increasing your channel authority does not happen overnight. Because it can be difficult to gain followers, some streamers opt to take the easy road and buy Twitch channel views. Some buy followers on Twitch. Here are reasons why you shouldn't:
Twitch is adept in tracking down users that do viewbotting. If caught, the channel gets a red flag and will never get partnered.
You will never go far if you buy Twitch channel views or buy followers on Twitch. If you stop paying them, you will lose followers, not to mention that you were losing money in the process. On the other hand, viewers who enjoy your content stay without getting paid by you. On the contrary, they might tip you or make a donation.
Instead of buying channel views, focus your time and energy on creating quality content. Stream games that viewers are willing to see. Release content regularly and advertise your content in social media that link back to your channel. Join a discord streaming server because it will help you go past hurdles as a beginner. You can invite your friends to check out your channel. That goes without saying that you do not have to bribe them. People are likely to view a channel with five viewers than one with nothing. And, of course, use the plug-ins and tools above to increase the value of your channel.