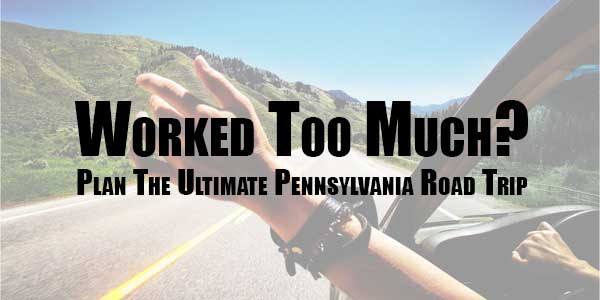 Rich with history and absolutely brimming with natural beauty, Pennsylvania represents an incredible road trip destination for travelers from all walks of life. Family that wants to spend some time enjoying the great outdoors year-round?
Check. History buff that wants to experience firsthand the battlefields that shaped the future of the nation?
Check. Native Pennsylvanian that hasn't explored the state to its fullest extent, perhaps excited at the possibility of escaping the hustle and bustle of Philly or Pittsburgh for a while?
There's something out there for you, too.
Whether you're staying for an extended period of time or are just passing through, consider the following tips and attractions to keep an eye on in the Keystone State.
The Best Battlefields:
Home to some of the most notable battlegrounds of both the Revolutionary and Civil Wars, the likes of Gettysburg and Valley Forge are absolute must-sees for families. Trails, museums and endless things to do in surrounding parks make a great stop for any road trip during the fall whether you're history buff or not.
Oh, and don't neglect the fact that there's both tent and RV camping near battlefields such as Gettysburg, too. If you just can't seem to get enough of historical sites, consider finding an RV rental in Pennsylvania that keeps you close to the proverbial action as you trek through the state.
The Nature Lover's Experience:
Beyond the battlefields, below are some additional points of interests for nature lovers. Whether you're on the hunt for a hike or the sort of views you can only get in Pennsylvania, make sure to check these spots out:
Ringing Rocks Park: home to massive, infamous rocks that ring like bells, this natural hotspot needs to be seen to believed
Presque Isle: home to tons of owls and other must-see birds, this is the perfect place to the explore with your little ones who love animals
Glen Oko Falls: boasting an epic waterfall alongside an 3.7 mile trail, additional activities such as fishing and rock climbing can keep you entertained for hours
Pass Through The State's Famous Ghost Towns:
If you're road-tripping through Pennsylvania, don't neglect the state's various ghost towns and abandoned cities which represent awesome photo ops when you're passing from Point A to Point B. While there's nothing to truly be afraid of in most of these spooky locations, they do provide an eerie glimpse into the state's storied past.
Some "haunted" points to pin on your map include the Lausanne Ruins, Eckley Miners' Village and Pithole City.
Spend A Day Downtown:
For out of towners, don't completely rule out the possibility of checking out the hubs of Pittsburgh and Philly, respectively. There's no better place to grab a cheesesteak or just take a break in civilization. Meanwhile, other awesome historical attractions such as the Liberty Bell are great for rounding out your trip as well.
The ultimate destination for history lovers and families alike, don't neglect what one of the United States' original colonies has to offer! No matter how long you're in Pennsylvania for, make sure to highlight these sights and attractions on your map: you won't be disappointed….