Data mining is an essential part of business research. What happens is that data is mined from its raw source and then compiled into a useful format. In essence, mining is the process that transforms raw data into relevant information. Business owners can then use that information to take smarter actions and make better decisions.
There are several elements of data mining including extraction, transformation, and the application of data into the new system. For those of you who are still unsure whether investing money in data mining is a good idea, I have some news for you. It's not only a good idea, but it is actually an essential part of business growth. Small businesses are able to use mined data to build models and learn information about their target market – information that is not available through any other means.
1.) Common Data Mining Techniques:
Data mining is in a constant state of flux. It's always moving forward, leaving so many unprepared small business owners in the dust. So it's important that you understand the basics. Don't get left behind by many guides.
Finding Incomplete Data:
Incomplete data will cause data mining to completely miss the mark so the first step is to find incomplete data. There are several techniques that are used to accomplish this goal, including self-organising maps. These maps trace key data points and provide a visual representation of incomplete data.
Dynamic Dashboards For Data:
Managers should have a system on their computer that feeds them data in real time, showing it as it flows from one database to the next. These dashboards are then used as a source for data mining.
Database Analysis:
Databases hold the key to structuring the format of data, so it's essential that algorithms be implemented to locate hidden patterns. Build these systems into the database itself so that data is forced to flow through it.
Text Analytics:
Analysing text is helpful in locating patterns hidden within hordes of different text files. For example, text-processing programs can be written that seek repeated sections of data. If you have ever used CopyScape, then you've seen this process working first-hand.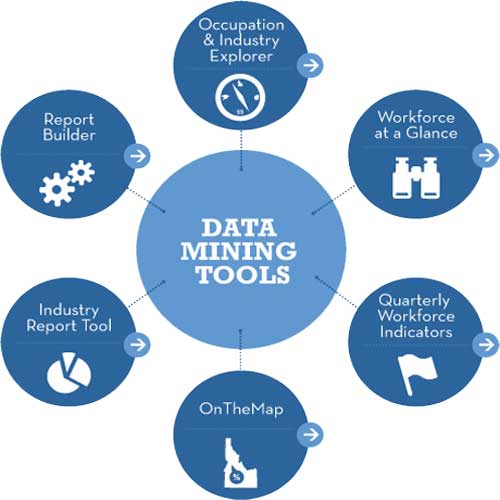 2.) Game-Changing Data Mining Tools:
Now that you understand the overall data mining process, let's look at some of the tools that can be found on the market. These are all multi-purpose mining tools that are expected to be game-changers throughout 2018.
1.) Rapid Miner:
This is the most popular data mining tool on our list, likely due to its complete out of the box functionality. Furthermore, this is completely open source and requires no coding knowledge. Some of the main functions include pre-processing, visualisation tools, analytical tools, and it can even be integrated with WEKA and R-tool to provide models of scripts that have been written in those programs.
Click Here to View Rapid Miner
2.) WEKA:
This java-based tool is also free and contains a number of customisation tools including visualisation and predictive analytical tools. If that's not enough, modelling, clustering and classification tools are also included.
3.) Knime:
This tool is used for pre-processing practices including extraction and transformation of data. Knime also has the ability to show the entire network of data nodes, making it a popular choice for financial analytics. Furthermore, it comes with powerful machine learning features that make it adaptable with a lot of BI systems.
Data mining tools are an important addition to small businesses looking to leverage their current data in a way that helps them make better business decisions. Learning to adopt game-changing data mining tools into your business will help you thrive all throughout 2018 and beyond!