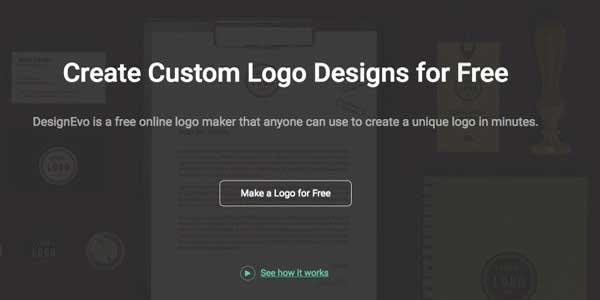 The logo is the most important part of building your brand identity. Hiring a professional designer to create a custom logo can definitely be expensive, especially for most small business owners and individuals who don't have the budget. Fortunately, there are many free tools available to help you create logos online. DesigneEvo is one of them and you can use it to make professional-looking logos without difficulty.
It's free and easy to use. It has a smart search engine that helps you find the icons that suit your needs. There are over one million icons integrated in their database and all of them are professionally designed and can be freely scaled, rotated and customized with desired color. If you don't have the time, experience or the budget to pay a designer, you can have DeisgnEvo as your free online logo design expert. No matter what your need is, you will find enormous ideas and possibilities.
Usually, text is necessary for a logo design. DesignEvo allows you to add and personalize text with your own style. Adding company name/business slogan and editing to get unique typography artwork is a breeze. You have more than 100 fonts to choose from and many beautiful word art to apply that are creative combinations of colors, fonts, and text effects. With little effort, you can edit any text to fit your business perfectly.


You have full control over how your logos should look like because all elements are fully customizable and you are allowed to boost your creativity with no limitations. With only three steps, you can get a fascinating logo in hand:
Search your preferred icon to use and customize with your own style.
Add company name or other text and edit color, size, spacing, alignment and effect.
Make some necessary adjustments and download immediately.
It's simple to change the background color for your logo. You can keep a transparent background or fill with solid/gradient color. Do what you need.
Finally, just share DesignEvo site on your site or social media to give the developer some credits, and then you have unlimited downloads for your logo. What good is that you can preview before downloading, to see how your work will look like in different materials.
The DesignEvo's developer indicated: "Usually, making a logo for business can cost hundreds and thousands of dollars. If you're a small business owner who needs a logo design but don't have a budget, DesignEvo comes to your rescue. It allows anyone to easily and quickly create a customized logo in a matter of minutes."
DesignEvo Site: www.designevo.com
Features That I Like Most:
A Large Collection Of Vector Icons And Shapes:
There are over one million well-designed icons provided for selection. Just input a keyword and search for the items you need. Don't worry, all the icons can be fully modified with your preferred size, rotation, and color to level up your logo.

Free Fonts Available:
Over 100 fonts are free at your disposal. And there are many beautiful word art built-in that are a creative combination of beautiful colors, styles and effects. With only a few clicks, you can choose the desired font for your logo text and customize its color, size, style, spacing, or add outline and glow effect to get perfect typography.
Smart Editing Function:
DesignEvo features a simple yet powerful editor that enables everyone to customize unique logos without difficulty. You are able to set the solid or gradient color, resize the canvas, change the background, manage layers, and generate layout automatically. Everyone, even with no advanced design skills, can boost creativity and make amazing logos in minutes.

Intuitive And User-Friendly:
It's very intuitive and user-friendly. You can find in-depth tutorials and simple videos on their page to know better how it works. Best of all, it's completely free and no registration required, which will save a lot of time downloading and installing any software.
My Final Thoughts:
DesignEvo makes logo design simple and straightforward, and provides with the great and user-friendly experience. It can help more people to create compelling logos that take their business/brand to the next level.
If you need a logo for your blog, website, start-up, company, business or any other project, DesignEvo helps a lot. It has many categories available. No matter your business is for food, education, real estate, social media, fashion, and beauty, etc., you can find creative logo design ideas from it. You do not need any design skills to use it, perfect for creating your own style logo, especially if you do not have sufficient funds to hire a professional designer.