Owning a company is a huge responsibility. This includes responsibilities to employees, investors, customers and far more. Unfortunately, despite your best efforts, things can still go wrong. To help protect you and your company in such situations you need business insurance. In the long run it can help protect you and your employees as well as save you a lot of money.
It Protects Against Nature:
Unfortunately, business owners can't protect against everything negative that can happen to a business. There's no way, for example, for you to stop the local river from flooding. If that occurs, your store could get swamped with water and all of your stock could be destroyed. Business insurance can help protect you against the loss.
It Protects Against Lawsuits:
According to Forbes, a whopping 90 percent of businesses get sued. It's pretty much a guaranteed eventuality. If you don't have insurance, a lawsuit could wipe your company out overnight. Even defending against completely ridiculous meritless lawsuits can be very expensive. Business insurance can protect you against the expense. Overall, you will more than likely be sued multiple times, so you need to be insured.
Business Insurance Can Be Customized:
You may worry that generic business insurance may not provide you with the kind of coverage you need for you niche business. For example, you may run a tattoo parlor and have to defend against lawsuits regarding employees unhappy with their tattoos. In that case, you should be aware that customized insurance for tattoo studios certainly exists. The coverage can be modified to provide you with exactly what you need.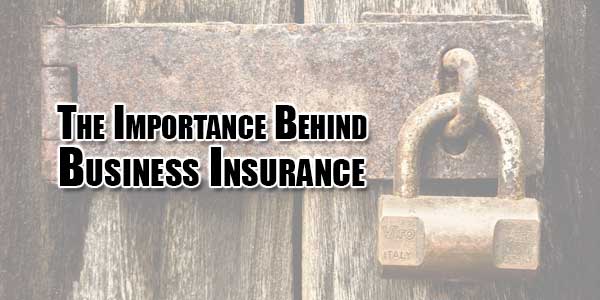 It Protects Your Employees:
Another excellent reason to have proper business insurance is that it can help protect your employees. According to OSHA, 4,821 employees were killed on the job in 2014. Sadly, workplace injuries are more common than one would hope. Having the proper workers compensation coverage can help insure that these employees and their family members are protected in case of a workplace injury.
It Grants You Peace Of Mind:
Overall, proper business insurance coverage lowers the risk of doing business. Without it, there are far more things that could potentially destroy the business in a very short amount of time. While having business insurance doesn't excuse you from your responsibilities, it can provide you with a greater feeling of peace of mind.
Business insurance is absolutely integral to running a company in the United States. That includes both huge corporations and much tinier small business. Make sure you have the coverage you need to protect your company and everyone else depending on you.