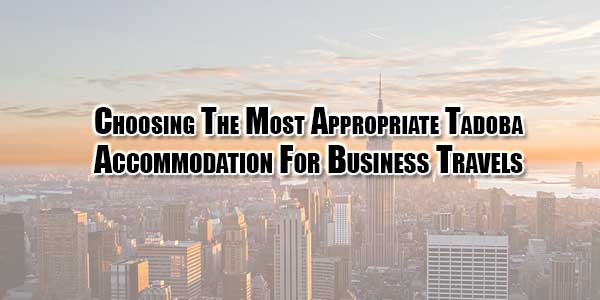 So, you are traveling to Tadoba on business and are not sure how exactly you should finalize a hotel. Assuming that you will have to attend calls and meetings, it is necessary that you have all types of amenities very close to your hands. As a business traveler, here are the things on which you must keep an eye when selecting a hotel.
1.) Search For Pictures On The Hotel's Website:
When looking for hotels, make sure that the hotel's website has a gallery full of pictures of the rooms, washrooms, gardens, coffee bar and other places. This way, you can know about the layout of the rooms and what furniture are inside it.
2.) Make Queries About Facilities:
A fast Wi-fi, proper electricity connection, laptop safe and comfortable living arrangements are essential features of a good hotel. If you have to speak with one of your offshore colleagues or business partners or even your family members, having good connectivity is crucial. What can be more rejuvenating than speaking to your family members when you are traveling on business. A plug point inside the laptop safe enables you to charge it when you are away doing some sightseeing.
3.) Ask About Advanced Online Booking:
You cannot afford to hop from one hotel to another searching for a room that suits your purpose. Advanced booking becomes all the more necessary, if you are traveling with a team. Several hotels in Tadoba offer rooms at discounted rates, especially if you book conference or meeting spaces.

Advanced booking is all the more important if you do not want to lose precious time hunting for a suitable room while your tour period comes to an end and you do not get the chance to go to the forest. Take your time after you reach the hotel and go on an adventurous trip to ride through the dense forest and site a tiger guarding its territory.
4.) Ensure Closeness To The Forest:
Is the hotel in close proximity to the hotel? If yes, you can get ample opportunity to get a fleeting view of a deer running through the trees or birds flying away from their nest.
5.) Avail Healthy Eating Options:
When you are engrossed in work and meetings, you may miss out some meals. But, you can avoid staying underfed by ordering food from the hotel's in-house restaurant or coffee bar. In the event that you set up a meeting in the coffee bar, you may as well keep yourself fed and hydrated while discussing business.
6.) Make The Most Of Guest Services:
The hotel you board should have excellent guest and concierge services. The people working in the hotel should be well-versed in the methods of proper guest treatment and also about local tourist destinations. It is expected that they keep themselves abreast of the myths and lore of the Tadoba National Park.
#.) A Trip To The National Park:
The hotel must have a provision to take out guests on a ride through the forest to get a glance of a tiger drinking water from the pond or a cub running about in a playful mood. Tadoba is surely one of the premium tourist destinations in India and as a business traveler, you will have the opportunity to sink in the beauty of the greenery and the wildlife.
If you are planning to visit Tadoba on a business tour, keep the above-mentioned points in mind and selecting the right hotel will not be a problem anymore.