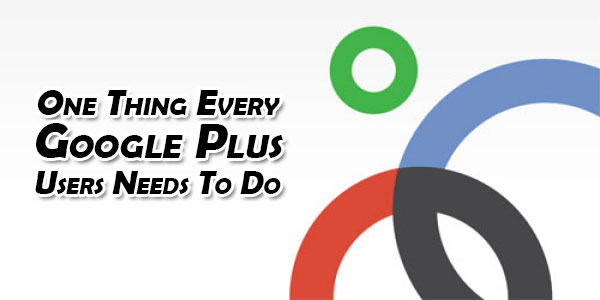 Google + is now taking the world by storm. You can connect with friends or share documents with your co-workers just by using this platform. You can also get updates, access to applications, and power recommend services. This platform can play major roles in your career and relationships with others. Here you will get to learn about Google + and the one thing every Google + users needs to do.
Getting Connections:
One of the main reasons people use this awesome platform is because they can have more organized connections. You can group your friends in one circle and "hangout" with them on a video conference call. You can send important files to a circle of co-workers. You can allow a certain circle to see items you like and share on the internet.
Businessmen often take advantage of the feature that allows their companies to have Google+ followers. Unlike other platforms, Google + allows an unlimited number of followers. Followers often get emails and updates about their business products and services.
You can say that this platform can create the best connections because:
It has amazing circles
It allows sharing and liking features in social groups
It gives updates on people in your circles
It has unlimited following features
It makes sending files easy and organized
Using Services:
Everyone loves Google because of its cool applications that have maps, images, videos, email, and a great number of other appealing features. The best thing about the platform the "plus" sign gives is having one ID and password for all of its applications. You can:
Gain reliable directions
See accurate images
Watch quality videos
Receive and send punctual email
Play with challenging games
Listen to the latest music
Access online money
Discover the best products and services
Find out necessary information
Get updated news locally and globally
You can have all of these services in your hand by using the platform with just one ID.
Building Pages:
If you own a business, you'd love this platform's services that will attract customers to your business' Google page. You will get to promote your business that will bring profitable outputs to your investments.
Official websites of the business can have badges that will help their users share the site to Google services. As a business owner, you will be able to see your investments grow by monitoring the Google views on your page.
The best tips for a page are to:
Use the page in the point of view of a company
Provide complete information on the company
Feature photos of the site, personnel, and products
Use badges for non-blog sites
Become a Google + follower of potential customers and business partners
Monitor Google views for popularity on specific items and services
Brainstorm new moves in your business investment based on views
Post regular updates in your business that customers will find helpful
Pages are the best part of this platform because they help businesses become more competitive. They also have editing and uploading tools that are easy to use.
Being Updated:
You can learn the latest news in the economy, politics, world, or simple entertainment with Google. You can even make news for everyone else to know.
The plus features events that you can either attend or make. If you want to have a simple "get together" with your friends, all you have to do is invite them to your event. If you want an event for your company, this will also make the news known to partners and clients.
If you are more interested in learning events, all you have to do is look on the plus feature" What's Hot?". This tells you all the trends that may catch your interest. They may also give your business ideas too.
Making The Best Profile:
The one thing Google + users must do to get have an upper hand with this platform is making the best profile.
Google profiles will be effective in helping you:
Expose yourself to the world. Let your friends know about recent life events by posting a status. Let your relatives learn about your interests through photos. Since everyone is turning to Google for reliability, quality, and fast speed, you can establish a good name through your profile.
Grow economically. It has been proven with a Google profile that you can have a better chance of earning more money online by getting Google + followers to inquire about your business and Google + views to create business trends.
Meet technology advances' demands. Either as a business employee or owner, it is important to use the latest platforms in your career. You may also be considered more "in" among peers.
This platform has a lot of great elements that can help you build a reputation online. You should make a profile and explore the platform as soon as possible. With Google + your world will definitely be shaped in a much clearer sense.