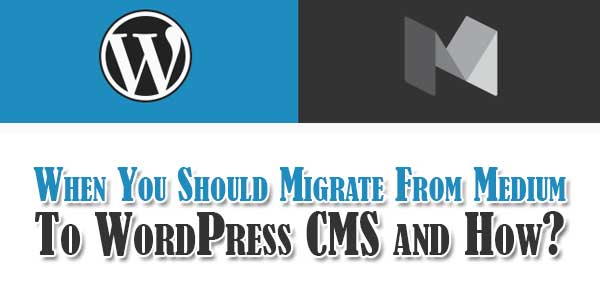 Most of the industries, ranging from marketing to retail favor using stories as the primary source of communicating their information to the target audience. This is because storytelling proves a powerful and effective way to convey even a complicated message in a simplified manner. Communicating information via stories help evokes feelings and emotions, which help in keeping visitors engaged to a site.
No matter whether you're building a small or a large-size storytelling website, you'll certainly be concerned about its success. Although, there is no one-size-fits-all approach to guarantee your website success, but establishing a solid foundation can help extend the viability of your venture. This is where the Medium CMS comes in handy.
An Overview Of Medium CMS:
Created by Evan Williams (one of the founders at Twitter and Blogger.com), Medium CMS is built with the primary purpose of improving published content via collaboration and curation. Most importantly, the CMS lets users select the level of contribution based on their needs. For instance, simply read the website content or can provide feedback to the website creator which increases the likelihood of seeing the content.
Medium CMS is an ideal choice for building minimal storytelling websites, but it may not prove a worthy option if you need to make any customization to your storytelling site.
Alternative To Medium CMS:
There is a customization hitch associated with the Medium CMS, because of which its supporters search for an alternative that offers plenty of customization possibilities. It's no more hidden that WordPress comes loaded with customization options. And so, you can consider migrating your Medium powered site to the WordPress platform.
Reasons that make WordPress a suitable choice for migrating your site from Medium CMS…
It is Versatile – Switching your site from Medium to WP will provide you with the opportunity to create different sort of websites – be it a blog, ecommerce website, a corporate site and more.
Better Control Over Website – The availability of plugins and themes help in customizing WordPress website appearance and functionality as per your needs, in no time.
It is Easy to Operate – WordPress comes with a simple to use admin panel that can be operated easily, without any special skills or knowledge. Simply going through some basic steps will guide you how you can handle little tasks, such as editing content, adding images and so on.
Now, let us take a look at the steps that you need to follow for migrating Medium to a WordPress install:
Step 1 – Purchase A Domain And Web Hosting Plan For WordPress:
First and foremost, sign up for a web hosting account with recognized names such as Siteground or any other, as it will configure your WordPress installation. You just need to point the DNS of your domain name at your web host's DNS servers. And, your website will become functional in 24-48 hours.
Once your site is up and running, search for a theme with a clean and minimal design. In addition, look out for plugins that helps add all the features offered by Medium.com.
Step 2 – Select A WP Theme:


Pick any Medium styled WordPress theme that contains features like Medium.com. For example, the Literatum WP theme comes packed with similar designs that resembles Medium.com. This theme is created for writers, and can also be used for setting up a magazine website or online journals.
Step 3 – Install WordPress Plugin To Add Storytelling Features:
You can install the Aesop Story Engine plugin for adding unique storytelling features to your website – that can be found on Medium.com. With this plugin, you can create articles or stories, as you can see on the New York Times. The Aesop Story Engine plugin also provides better interactivity compared to the Medium publishing platform, as it enables to post any type of media element (like video, audio, etc.) virtually.
Step 4 – Export Your Content From Medium.com To WordPress:


After installing and activating a WP theme and plugin, next export your content from Medium.com to your new WordPress website following the below listed bulleted points:
Login into your Medium.com account and open up the main menu.
Once you have accessed your Medium.com admin dashboard, browse your name and click on the "Settings" gear next to it.
Next, scroll down and look for the option "Export Content", and then hit the "Download.zip" button, as follows:

Clicking on the highlighted button shown in the image above will download all your Medium.com posts in a .zip format.
Step 5 – Now All You've To Do Is To Import The Downloaded Posts Into WordPress. For This Purpose, Follow These Steps:

Access your WordPress website admin dashboard screen.
From the admin dashboard screen, browse Settings → Tools → Import. This will open up the following window:
Click on WordPress as shown in the above image. And then, choose the .zip file that has been downloaded from Medium.com.
Once you've selected the downloaded file, hit the "Upload File and Import" button.
That's it, all your Medium.com posts will get imported into your new WordPress install.
Conclusion:
Do you want to create a simple storytelling website? You can consider using the Medium CMS to achieve such a need. However, if you want the customization ability, then you'll have to find an alternative to Medium CMS, such as the WordPress CMS.