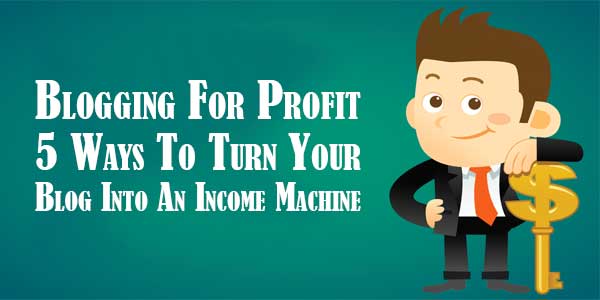 Your blog may have been your hobby. Now, you have several hundred followers and you are wondering if you can begin blogging for profit. Certainly others are doing it. If you have visited any major blogs, you may or may not "see" how they are making money from their blogs. Rest assured, they are. And if you want to get in on that action, there are a number of ways you can do it, even if you are not one of the "big boys." Here are 5 ideas to start generating income from a blog.
Selling Others' Products Or Services From Your Blog:
This is most successful when you have a very "tight" niche with at least several hundred or more regular followers/subscribers. It is at this point that you can begin to seek "brand partnerships" with companies that sell exactly what your audience buys.
Suppose, for example, that your blog began as a hobby – helping students and their parents plan and create great science projects. You now have about 800 followers, many of them parents or parent-child teams.  They follow you because the child has an abiding interest in science and the parent wants to foster that; they come to you because every year their kids have to design a science fair project.
You know that you can provide value to science supplies retailers. As you write posts about great project ideas, you can list, as you probably already do, the required supplies. You can also then point parents in the direction of a retailer from which all of these supplies can be ordered, right then and there. In fact, they can connect and place their orders right from your site. Getting even a bit more sophisticated, you and your brand partner can establish "kits" for each project you post. The retailer has nothing to lose other than a percentage of the sale. And as your audience and resultant sales grow, you can negotiate an increase in commission.
The trick to profit-making blogs from brand partnerships, again, is to have a very specific niche. And if your niche is in an expensive one, for example skiing, your potential for profit is even greater.
Offering Premium Fee-Based Subscriptions:
Suppose you have a blog on flipping real estate. You don't have to prove your value to any outside retailer – only to your followers. Your posts are very practical, and your following is growing. It's time to make some money for this expertise you are currently giving away for free. You continue to blog, but you also develop e-books with special strategies and tips that your regular posts will not cover; you keep an updated listing of foreclosures by state and city. These are items you sell. And if you have become an expert in the eyes of your followers, they have come to trust you and your advice. If they are serious about flipping, they will want that additional information that you have for sale. Blogging for money can really be as simple as this.
Direct Paid Advertising:
If you make a name for yourself in your niche and you can demonstrate a very large number of visitors you receive in a given period of time, you are a prime candidate for directly and indirectly related retailers to purchase ad space on your blog. To be attractive to direct ad placement, you must have the following
Content that the advertiser sees as related to his product or service
A large following that makes their cost worthwhile.
Text ad networks may actually contact you, or you can sign up with them. They scan sites regularly for keywords and then post ads for relevant retailers.
If you blog is relatively young, ad networks is not the way to go. Sign up with Google's AdSense just to get started. You can move over to ad networks or to contacting retailers directly as you grow.
Affiliate Programs:
Blogging for money can also utilize affiliate programs, no matter how small you may be. Here is how this works. You allow companies to place their ads on your site. In the ad is a link to the company's site. If a visitor to your blog clicks on that ad and, ultimately, makes a purchase, you receive a commission. In some instances, you will receive a small amount for just a click (pay-per-click) whether the visitor makes a purchase or not.
Your task is to ensure that your readers/followers will have a true interest in the product or service; otherwise you are wasting ad space. Sometimes, it is a good idea to have a 30-day "trial run" to see if that advertising will really make you some money. Determining whether giving up the white space is worth it, you will need to watch your budget carefully. Make sure that enough revenue is generated to make it worth the space.
There are thousands of affiliate programs, as you can imagine, because theirs is a "no-lose" situation. You get nothing until a sale is made. If, however, there are lots of sales from your blog, then it will be time to re-negotiate the terms of the contract. When you are young and new, you have little negotiating room; as your audience grows, however, you are in a much stronger position.
Merchandising Your Own Items:
If you have a logo or a favicon that distinguishes your niche; if you have a very catchy slogan or design that is easily printable on T-shirts, hats, mugs, mousepads, and such, then you can sell blog brand items and get loads of free advertising in the process. This works in the following circumstances:
You have a smaller but very loyal following that likes you and that thinks wearing your logo or silly slogan will be fun
You have a huge following and your blog is well known
You started your blog around a cause and now sell items to advertise the cause, donating a portion of your sales to that cause. People who buy T-shirts throughout the year anyway, will be happy to get one and support that cause.
If you decide to go this route, consider using an on-demand company rather than ordering and paying for the items in advance and then having to worry about payments and shipping. Usually, the on-demand agency will design a page for you to display right on your blog, so that it looks as if the purchaser is actually purchasing directly from you.