It's hard to find simpler, faster and smarter computers than Macs. No matter what your needs are, Macs have anticipated them for decades. However, in spite of all that perfection, a lot of Mac users occasionally face slowdowns and, in order to find the cause, dig too deep into the problem. In most cases, the answer is the simplest one—your Mac lacks system memory. When it comes to excessive memory usage, even new machines can experience delays. In today's post, we will show you how to control your Mac's performance through system memory.
Check Your Memory Usage:
The first step for controlling the usage of RAM is to check memory usage using Activity Monitor— a completely free system utility built into all Macs. Activity Monitor shows the processes that are running on your Mac, so you can see how they affect your Mac's activity and performance:
Click on Finder → Applications → Utilities → Activity Monitor
In the Activity Monitor window that opens, click the Memory tab

There you will see:
Physical Memory: The amount of RAM installed on your Mac;
Memory Used: The total amount of memory currently used by all apps and OS X processes;
App Memory: The total amount of memory currently used by apps and their processes;
Wired Memory: Memory that can't be compressed or paged out to your startup drive, so it must stay in RAM;
Compressed: The amount of memory in RAM that is compressed to make more RAM memory available to other processes.
Free Up RAM With Third-Party Apps:
If you need a quick boost to get through the end of the day, there are several third-party cleaning tools for Macs, such as MacKeeper, CCleaner and Onyx. All of them are aimed at cleaning out junk files and freeing up disc space. But what about RAM? If several memory-consuming applications are launched at the same time, your Mac is likely to slow down no matter how much free disc space there is.
1.) Memory Cleaner:

If you need graphic apps on your Mac, the best decision in the long run will be to extend the RAM. Meanwhile, get a quick boost with the Memory Cleaner tool recently launched by the cleaning app, MacKeeper. The tool is built into the program and is free to all MacKeeper users.
It works as follows: After the Memory Cleaner window opens, the progress bar shows the total amount of occupied RAM on the Mac and offers to perform a quick cleanup. There are also two cleanup modes: a basic cleanup that can release up to 10% of RAM, and an advanced one that can release up to 30% of RAM. This piece of software can quickly and easily make your Mac run faster.
2.) Memory Clean: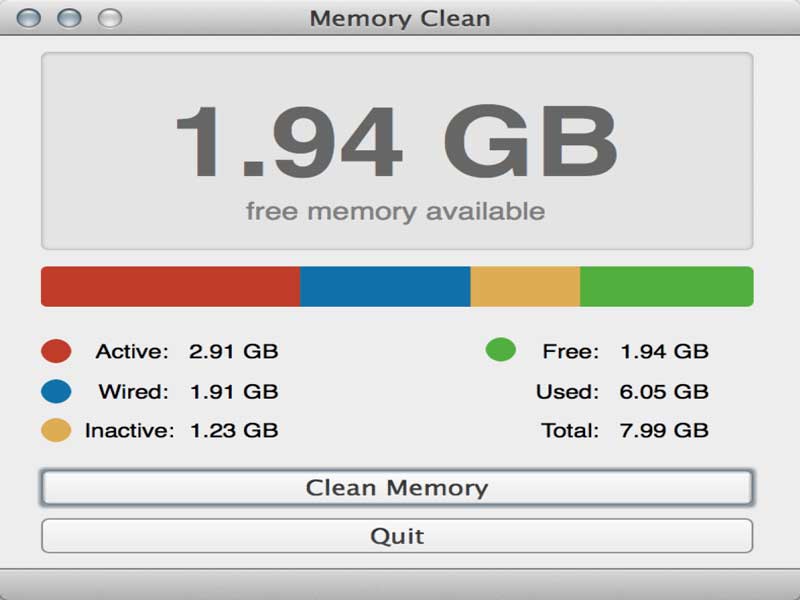 With Memory Clean, you can monitor and free up memory. It's useful for troubleshooting a problem and using a smaller amount of memory as efficiently as possible. The app can flawlessly run in the background, as it stays in the menu bar showing free memory all the time. Among the main pluses are a convenient interface, a free-of-charge, quick-cleaning process and timely updates. In addition, the app works seamlessly with El Capitan, the newest OS X for Mac.
3.) Memory Optimizer:

Sometimes the Mac OS X does not release back the inactive memory after using memory intensive apps such as Final Cut Pro. Memory Optimizer enables the user to quickly run the purge command with a single click versus having to reboot the entire system. This tool is also available for free to MacKeeper users.