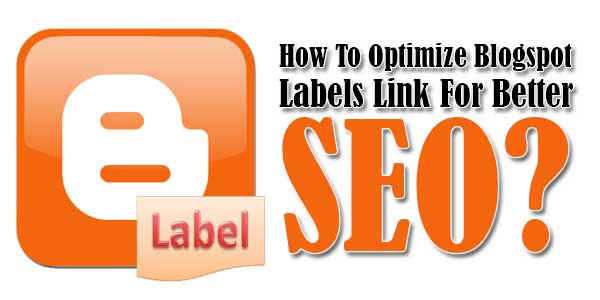 Blogspot is a platform for Blogging provided and own by Google, you will find the many tricks to optimize your Blogger blog manually. You will find out many tips to SEO your blog so here we are also sharing the best in this post to help you in optimizing your Blog Label. We optimize blogger labels to complete better SEO of our website and that can help search engines to read and crawl each of our website data.
In Blogger we need to optimize Blogger Labels, Blogger Comments as well as Blogger Archives. This kind of post is relating to optimization of Blogger Label. In the forthcoming posts we will tell you to optimize Blogger Comments and Blogger Archives. Now first I gives you a little description in regards to the blogger labels and from then on we will discover that "How to Optimize Blogger Labels?".
What Are Blogger Labels?
Blogger Labels are the labels which we add when we are making the post. These labels are called as tags in WordPress while in blogger by default they are known as labels. Blog labels are actually a tag not a URL. To make it easy for search engines to read and crawl our website data and content we optimize the blog labels. These labels helps your visitor to go to any particular post but it confuses search engines.
Now you are thinking that how it confuses Search engines? I will tell you the reason. The reason is that Search engine searches for URL of any particular page instead of tags or labels so the search engine after seeing so many labels of one topic become confused that which one is of this post or page. In order to minimize this confusion of Search engine we Optimize Blogger Labels.
How To SEO Optimize Blogspot Blogger Labels?
1.) Go To Your www.blogger.com
2.) Open Your Desire "Blog".
3.) Go To "Template".
4.) Click "Edit HTML".
5.) Now "Click" Within Code Box.
6.) Press [CTRL+F] To Search <a expr:href='data:label.url' Code.
7.) Now "Copy" The Next Code And "Replace" It To Above <a expr:href='data:label.url' rel='tag' Code..
8.) Click "Save Template" And Done.
Last Words:
Hope that this post will  help you in understanding and Optimizing your blogger labels. To optimize your blogger comments and blogger archives kindly subscribe via email so that you may be notified when the posts were updated on My Blogging Nest. If you found that  any link is broken then inform me by giving your comments.Also If you need any help then you are free to ask…