Developing a business idea that will help you earn lots of money is made easier with the technological advancements available at your disposal. However, non-techie business owners work at a disadvantage because they will have to experience a steep learning curve in order to effectively use these tools, which bog down their progress. Nonetheless, there are online services that technologically-challenged people can use without any deep computer knowledge to produce spectacular results.
If you're one of these non-techies, below are the technologies that you must take advantage of and the specific user-friendly tools that you should use to build a money-making business faster and more efficiently.
Take Advantage Of Website Builders:
Did you know that: 61% of Internet users worldwide make queries using search engines to research about a product before buying (Source: Interconnected World: Shopping and Personal Finance, 2012). To unlock the true power of your business, you need to set up shop first by building a website. This will serve as your brochure or sales pitch online where people can learn more about your products and services. More importantly, this will be the place where you can encourage people to purchase from you.
While building a website normally involves lots of coding and server management, technologically challenged business owners have an opportunity to create a beautiful and attractive website thanks to current innovations. One great example of these is the free website builder, IM Creator.


Through its drag and drop interface and availability of thousands of existing design templates any novice can go from zero web presence to a strong website presenting viable ideas anywhere from a few hours to a day. In addition, IM Creator integrates a powerful promotion system that facilitates easily sharing through social networks. A website builder is an easy solution to a seemingly insurmountable problem.
Landing Pages To Drive Business:
Did you know that: Among the B2B businesses, 68% of them use lead generation to collect new sales leads which they can turn later on into a customer? (Source: MarketingSherpa)
A landing page is a component of your lead generation campaign that allows you to collect information from a visitor, particularly an e-mail address or a phone number. Once obtained, this can be used to reach out to the visitor and build a relationship that can later be leverage into potential sales down the line.
In order to maximize your conversion rate (in this case, the chances of visitors to give away their information through your site), you need to set up a good-looking landing page that observes the best design practices. While setting up new web pages can be a drag especially for non-designers, GetResponse's landing page creator will make it easier for you to create effective landing pages using their library of beautifully designed templates that you can choose from.


GetResponse is a particularly useful service as it not only enables you to create beautiful and functional landing pages but also integrate email collection and marketing, conduct painless A/B testing for defining best results and a host of other features to make promoting your business easy.
Getting Started With SEO:
Did you know that: Among the people who do their shopping online, 44% of them use search engines first. (Source: Interconnected World: Shopping and Personal Finance, 2012 featured here)
Search engine optimization is one of the most popular ways to get you found online. By performing the different optimization tactics and strategies, your website can appear at the very top of search results for your chosen keyword. With competition increasing, dominating search results pages isn't a task mastered instantaneously so a little help will be necessary.


However, as a non-techie, how I described SEO may not make a lot of sense to you. This is why there's WooRank to cut through the technical verbiage and simplify the entire SEO process with its easy-to-understand explanations and actionable items.
This tool really explains SEO at its simplest and most basic terms that layman can easily comprehend. Also, aside from complicated SEO tools in the market that gathers lots of data for your website but doesn't really tell you what to do with them, WooRank diagnoses your site, automatically identifies the issues, and presents ways on how you can practically solve each of them – perfect as a starting point for what to do.
Contests And Promos:
Did you know that: 7 out of 10 people have played a game one way or the other. (Source: Everybody Plays, Kontest App Infographic)
Aside from playing games, as supported by the statistic mentioned above, people also love getting something for free. This is precisely what running a contest does. An easy-to-use and robust tool to help you launch a contest is Kontest, which allows you run different types of contests that you can embed on any online medium (website, social media) and track their progresses.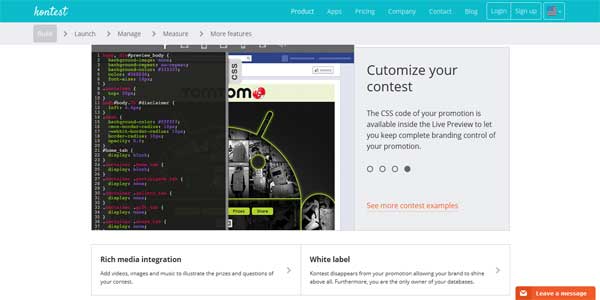 While you will have to shell out money to run a successful contest campaign, the benefits are endless. Not only will the contest help you build a community that you can turn into paying customers soon, but it also elevates your brand and makes you more well-known to your target audience – an excellent way to improve engagement with your brand.
Making An Impact On Social Media:
Did you know that: Using social media as a way to close your lead has a 100% higher success rate than outbound marketing (Source here).
Social media has become a viable way to reach out to your target audience which you can push down through your sales funnels. However, in order to make a profit with your business using this particular channel, you will need to learn which among the social media sites will bring you the most customers. For a non-techie managing multiple accounts and learning the languages of each network can be a daunting task. For those who will need help organizing and managing their social channels, $99 Social will be a viable option.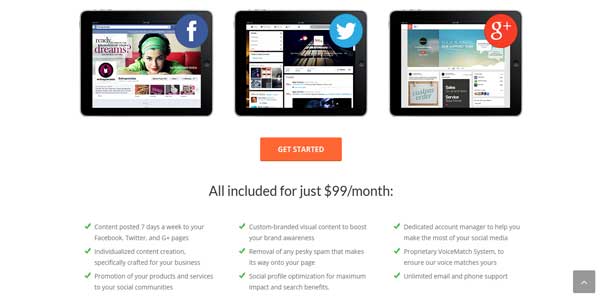 For $99 a month, they take off social media from your list of tasks as they will manage the compelling messages that will appear on your Facebook, Twitter, Google+, and other pages; necessary for running successful campaigns. They get the job done for you and allow you to establish branding on social media and let your target audience see your brand published highly-relevant posts to their liking. It is essentially outsourcing your social media marketing campaigns and have strategies executed based on the goals you'd like to have accomplished without getting your hands dirty and leaving you more free time to focus on other aspects of your business.
How about you? What are some other easy to use tools and online services that will help non-techies develop profitable businesses online?