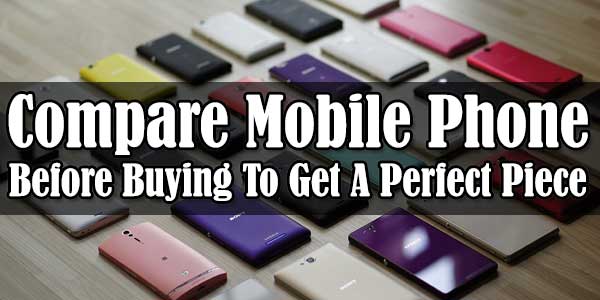 In the new era of technology, there are many mobiles phones available in market with just a penny difference of there price and also just a different chip in there motherboard so its really confusing for what you have to go. From outside, all looks awesome but thats is no it to go for it but instead there are much things to check from there inner features. On mobile store, the shopkeeper will not let you to open all mobiles to check and choose or check also didn't have all mobiles set piece to check so thats why you have to select your desire from home then have to go to the market to buy it.
Now if you have a question then how to choose my desired in home then the answer is Google. There are many sites that are providing this feature to compare mobile phones so that you can open them and compare your chooses 2-3-4… mobile phones and see there features difference. And selecting the best mobile according to your desires, you can also check there price so you don't have to worry about money at shop while buying.
Now here we are mentioning some features that you must have to check and compare before buying your desired mobile phone. Through this you will be confirmed before what you are going to buy and why…
Weight
Build
Colors
Display (Size)
Navigation Buttons
Display (Resolution And Pixel Density)
Stylus
Tap-On display
Fingerprint Sensor
Heart Rate Sensor
Water Resistance
Software Platform
Voice Assistant
Battery Life
Ultra/Extreme Power Saving Mode
Infrared (IR Blaster)
Camera megapixels (Rear)
Camera megapixels (Front)
Dual-LED Flash
Depth Sensor
Slow-Motion Video
NFC Chips
Front-Facing Speakers
Storage
Processor
RAM
Release Date
Starting Price (Off-Contract)
Motion Co-Processor
Hands-Free Voice
4G LTE
Now we are describing what to check in upper mentioned features in few words…
1.) Weight:
You must have to choose the light weight to make your pocket weight light. 🙂
2.) Build:
Choose some metal body to keep your phone safe in future instead of plastic.
3.) Colours:
If you are a girl then go with stylish colours but for boys, Simplicity is best… 🙂
4.) Display (Size):
Choose some bigger LCD size to view more content but not to the tablet. You know what we mean… 🙂
5.) Navigation Buttons:
Some mobiles have no physical buttons so we think you should avoid them.
6.) Display (Resolution And Pixel Density):
Resolution and DPI doesnot depend ipon LCD size so here you have to chose high one.
7.) Stylus:
You should choose stylis version for future graphics works…
8.) Tap-On Display:
You should avoid this because your phone can be on while in pocket just for touching.
9.) Fingerprint Sensor:
This one is awesome features to secure your mobile phone.
10.) Heart Rate Sensor:
Keep this function too becasue no one is safe in the world from disease.
11.) Water Resistance:
Select this features also to take picture while swimming…
12.) Software Platform:
We suggest you android, rest is up to you.
13.) Voice Assistant:
This one is awesome when you have goods in your hands while shopping.
14.) Battery Life:
Mobile phone are for travelling so choose a high battery life.
15.) Power Saving Mode:
Long battery is not enough, You have to save it also so go for it.
16.) Infrared:
Its time to control all from your hand so this one is also good.
17.) Camera Megapixels (Rear):
Of Course, go for high no…
18.) Camera Megapixels (Front):
Selfie is important so this one is for you only. 🙂
19.) Dual-LED Flash:
Party time is night so you will need it in future.
20.) Depth Sensor:
Want some HD images in depth then go for it.
21.) Slow-Motion Video:
Its time to slow and enjoy, make awesome slow motion video laugh later.
22.) NFC Chips:
Near-Field Communication is not famous so leave to check this.
23.) Front-Facing Speakers:
Use mobile and hear music from front speakers to make awesome sound.
24.) Storage:
Yes, Choose high because apps required internal storage no memory cards.
25.) Processor:
Mobiles are like mini handheld PC so high one is best.
26.) RAM:
Apps require ram more then processor so it should also be high.
27.) Release Date:
You have to be updated so buy a new version with latest features.
28.) Starting Price (Off-Contract):
Check out the price before going to buy it.
29.) Motion Co-Processor:
Motion sensor is awesome when Processor is supporting it.
30.) Hands-Free Voice:
While shopping then you will get the real benefit of this features. Go for it.
31.) 4G LTE:
Move to future in advance by choosing the right thing before spreading out.
Last Words:
This is a basic guide were we mentioned our thoughts what to check before buying a mobile phone and why so before going out to buy a mobile phone, just Google your desired mobile phone features or confused then compares it with your confused one and clear out your confusion.