Law firms need to find clients in order to survive financially. A junior associate in a law firm does not need to bring in new clients but as they move further up the ladder, they have to prove how valuable they are to the firm by bringing in new clients. If you are running a private practice, you have to bring in new clients or you will not be able to make ends meet. In order to attract new clients you have to market your firm. Here is how marketing your firm will help bring in new clients.

By Reinforcing Your Brand:
A good marketing plan will help to reinforce your brand. How people perceive your law firm is very important because it will determine at the end of the day if you can convert leads into clients. Branding is all about making your clients feel comfortable about approaching your law firm and seeking your services. While you may not have much control over your brand, you can influence it with your services and marketing effort.
By Heightening Awareness Of Your Law Firm:
In most cases, most people will not immediately think they need your services when they first hear about you. As a matter of fact, they won't even pay much attention. Your marketing plan can help you take measures to ensure your new prospects know where to find you when they are ready to use your services.
By Positioning You In The Market Place:
Your position in the market place should portray your firm as a credible expert and a reliable resource. Your market place is a network of competitors, colleagues and customers. Regardless of whether you operate locally or globally, you have to do a thorough research in your field of expertise and interact with members of the communities where you want to conduct business.
By Nurturing Current Customers:
Marketing usually happens when you and your clients come together, and not necessarily when you are overtly promoting something. There are a variety of platforms where you and your clients can come together such as on social media, on advertisements, etc. When you develop a solid marketing plan that delivers a great experience to your clients, then they are likely to recommend you to other prospects.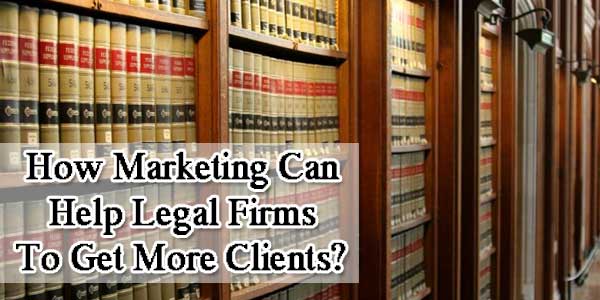 How To Market Your Law Firm To Bring In More Clients…
Use Your Website:
Your website can accomplish two things. For one, it will enable your clients and prospects to find information about your firm. Secondly, you can use it to market your firm. If your website contains multimedia elements such as charts, photos and videos, it will get a higher click through rate. Unfortunately, many law firm websites do not have any multimedia elements other than pictures of lawyers.
Creating an ongoing flow of useful information will attract clients and prospects. This, in fact, might be one of the factors that differentiate you from other law firms while still building your authority.
Use Content Marketing:
Law firms do a decent job of addressing any questions that clients have by publishing white papers, articles, short videos, etc. However, the majority of the content they publish does not reach the right audience. Law firms therefore need to drive more leads and clients to their website through owned, paid and earned media such as broadcast, email and print advertising. This way, the content will be more discoverable.
Use Influencer Engagement:
Journalists and bloggers produce content for their readers. They all own websites or blogs where they receive traffic. A law firm can establish itself with the appropriate audience by using a credible distribution service where bloggers and journalists are likely to use content. Alternatively, you can use platforms where experts such as lawyers can be quoted by relevant bloggers and journalists.
Through Newsjacking:
A small firm can be as effective as a large firm can if the quality of content is high. Therefore, when a supreme court makes a decision or some other relevant thing happens, you can use the opportunity to provide your expertise and share your perspective. Many firms jump on to current issues such as Obama Care, gun control, etc., to provide their own expertise. In short, news jacking helps to accelerate your marketing efforts and drives more leads.
In short, marketing is one of the most effective ways of attracting new clients. If done properly using the right tools, you can expect your law firm to experience some growth.
About the Author:
Billy Camryn is an Online Consultant for Laketahoedui-lawyer.com. He likes blogging about Legal issues, Business law, SEO and Internet Marketing Tips.