In recent times, the demand for voice search is growing rapidly. Almost 20-25% of all searches are conducted using a specific feature. Based on the forecasts done by large establishments, the voice search is going to acquire approximately half of searches from the upcoming year.
Due to improvements in AI(Artificial Intelligence) and ML(Machine Learning), prominent advancements have been observed in Google voice search. After the release of AI-powered Google Assistant, speech recognition has been improved to 95% which means the error is just 5%.
As reported by Hummingbird in 2013, Google emphasizes semantic searches. It is for upgrading and enhancing the rate of search accuracy by figuring out the search interest of users.
What Are The Popular Voice Search Devices?
Google Home
Google Assistant
Amazon Echo/Alexa
Android Phones And Devices
Siri/iPhone
Microsoft Cortana
Why Has Voice Search Got So Much Importance?
Voice search is getting high recognition as everyone wants to do smart work. Imagine you need to search the nearest restaurant and you are in a hurry, so you can quickly use the voice search option to find the preferred one.
There are multiple scenarios with effective examples where the voice search feature of Google can save time. Let's know the significant reasons as to why voice search is becoming a trend:
Easy And Quick:
There is no confusion in accepting that voice search is more effective than the conventional methods of searching for questions. It is the most important reason why many people are using it regularly.
Suitable And Convenient:
In this digitized world, nobody wants to waste time typing queries. When the easier path would be available, everyone chooses the same.
In case, we have the choice to select between speaking or typing a query such as"which is the popular mall in Delhi," we simply want to choose the voice search option rather than typing.
Compatible With Mobile:
Most probably, it is one of the most important reasons for using voice search. Smartphones have provided assistants and smart speakers because mobile phone users power voice search the most.
Based on a report provided by BrightLocal, around 56% of all voice searches have been done using smartphones. People found smartphones as a breeze to access the voice search feature of Google.
How Can Google Voice Search Be Used On Mobile?
To do a voice search
Use the Android device or iPhone and tap at the Google app.
At the bottom of the page, you will see the "More" option on the right side. Simply click on that and go to "Settings"
Now, tap on the "Voice" option.
Then, under "Okay Google," click on "Voice match".
It is time to switch on the option of "Access" with a voice match.
To go ahead with voice search:
Using your Android device, unlock the Google app.
Tell "Ok Google" or simply turn on the Microphone.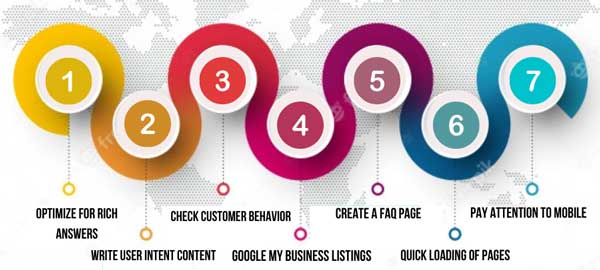 What Are The Seven Effective Methods For Voice Search Optimization?
Doing optimization of the existing content is needed to make it suitable for voice search. It helps businesses to stay ahead of the competitors in ranking for both web and voice searches. Here, you can see the different ways by which you can optimize your website for voice search and improve ranking on Google.
1.) Write Content Answers With Clear Questions:
Whenever you search for answers to your queries on Google, you can clearly view a featured snippet, and below that, there would be a set of different FAQ questions.
Voice search is just like featured snippets. If you want to bring featured snippets to your website, it is good to use Q&A sections for your website with clear questions, and suitable answers.
Likewise, when you want to optimize for voice search, you may start writing content for questions that start with why what, how-to, when, etc. Using such an approach creates better possibilities for you to upgrade your ranking on the Google search engine result page.
2.) Make Sure Your Objective Is Clear:
If you post the content, especially related to your product or service, ensure that your intention is clear. It would be ideal to cover all such queries that users might ask while approaching you. Giving clear answers to the queries that start with what, who, why, when, and where enhances your rank on search engines. Your content can be visible in the top results even if people go for a voice search.
From different other available answers, Google shows the relevant ones. So, overall, the strategy is to write user-friendly content.
3.) Analyze Customer Preferences And Act Accordingly:
When you have a desire to achieve your business goals in online marketing, you need to understand the interest of your consumers. For that, you may use distinctive analytical tools like Google Analytics to get an overview of the user behaviour for your apps or websites.
The sooner you get an idea about consumer behaviour, the greater experience you can deliver to your audience. So, try to do research and do content optimization to be searchable in voice searches.
4.) Google My Business Listings:
It is completely sensible to be found in near me searches if you are executing your business locally. In case you are serving in the local area, it is good for you to use the "Google My Business Listings" option. This plays an important role in optimizing voice search for websites, particularly for local SEO.
To appear in Google My Business Listings, make your account and provide all the details associated with your business to reach your customers easily. When you will have a profile on GMB with proper details of your business, it adds an advantage for your business as it ensures proper visibility of your business from voice search.
5.) Develop A FAQ Page:
Prepare a list of all possible questions that you consider important. Always post questions with answers that your customers may ask while approaching your business.
To search out all such questions, you should do research in the best possible way. When you are done with exploring from your end, make a FAQ page, but keep in mind to design questions in the same way that you obtained during the research.
If you find it difficult to produce the required set of questionnaires, you may use the website named "Answer The Public".
6.) Quick Loading:
Website page loading needs to be fast as it has a prominent role in increasing your website visibility. For checking the loading speed of your site, you may use "Google PageSpeed Insights" to execute a test and check where your website is lacking or if there is any loading page problem. In case some suggestions come while testing a website, find the resolution and fix the issue quickly.
7.) Focus On Mobile:
As most of the voice searches are usually done using mobile devices, your content should be responsive to mobile devices and capable of delivering a great user experience. For example, you can hire an Android app developer if you have plans to develop a responsible Android app.
In the current tech-savvy world, most people access mobile for searching their queries. It can ensure success for a business and increase its chances of visibility among users.
Conclusion:
If you are searching for efficient ways to improve your website for voice search, the specific guidelines will help you. It will allow your business to show up on the top results, particularly when individuals opt for a verbal search. Therefore, it's good to make your presence online for verbal search; it can help you to expand your business.