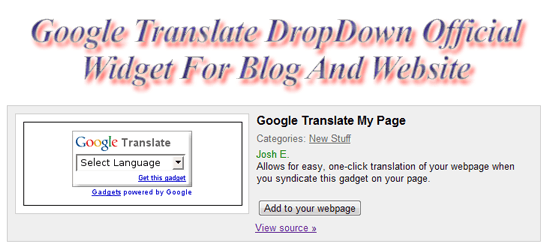 Google Translate gadget is a simple web gadget that you can customize and add to your website that automatically translates your web pages to many different languages. I'm sure that we are all not from the same country, and we all can't read and understand all languages in the world, and as a blogger my self, sometimes i want to translate some blogs from various languages to English. The usual way is to copy the page url and then i go to google translate service and paste the url there then hit enter.
We can all short cut all this steps for our visitors by adding a great widget to our blog and website. it's easy and one step trick. If you run a website or a blog, these days, it becomes almost a necessity to make sure that your web site or blog can be read by people around the world. And that means to make sure your website or blog is available in many different languages other than English. Do you have to learn all those languages to make your website available in all those languages? Of course, not.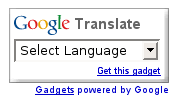 As of this writing Google Translate Gadget supports 35 different languages and the cool thing about this gadget is that it doesn't take much page real-estate on your web page. Google Translate Gadget has just a simple logo and a dropdown list of languages you can choose from. If you've been using any other translation gadgets/widgets you might have to read this article to make sure you are using the one that takes less screen space and doesn't download 35 different flag images to represent each language.
Features:
1.)This Widget Auto Detect Your Blog/Website Language And Translate It To The Readers Chosen Language.
2.)Support 35 Different Languages, English, French, Germany, Spanish, Italian, Dutch, Brazilian, Russian, Japanese, Korean, Arabic And Chinese.
3.) Auto Adjustment, No Matter Where Do You Add This Widget, It'll Be Auto Adjusted With Your Blog Template.
4.) Easy To Install.
5.) Quick To Load.
6.) Full Customizable.
7.) Google Official Widget.
How To Add In Blogspot?
1.) Go To Your www.blogger.com
2.) Open Your Desire Blog.
3.) Go To "Layout".
4.) Click "Add A Gadget" Where You Want To Add It.
5.) Now Scroll To "HTML-JAVASCRIPT"
6.) Click "+" Icon To Add It.
7.) Now Copy The Below Code And Paste It To There.
8.) Leave The Title Empty.
9.) Click Save, Now You Are Done.
How To Add In Website?
1.) Just Go To Your HTML File.
2.) Now Copy The Below Code And Paste It Between <body> </body>.
3.) Save It, Now You Are Done.
Customization:
1.) Customize It At The Google Page.