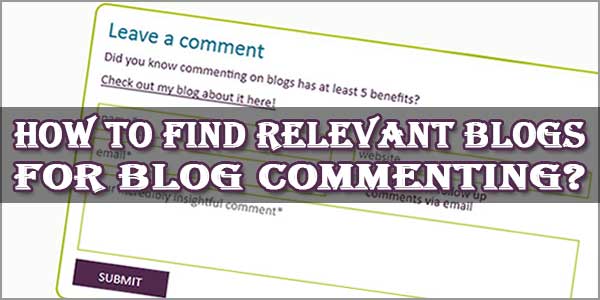 Blog Commenting: As a blogger, you should already know about blog commenting which is also considered as a best way of making back-links to your blog or website. I saw many bloggers they're doing blog commenting in order to build more and more backlinks for their blogs and websites, I heard from many of the bloggers that it is an easy way to make many more free backlinks for your blog and they're also doing blog comments to increase back-links to their blog.
Although, the link in comment will may have a no-follow attribute, that we all know but still it is count, in other words if it is not used for ranking purposes, I believe that it gives more exposure to the blog. It is recommended to do blog commenting on the blogs relevant to your niche and see you will feel better than before. "You know something is better than nothing!"

One another fact about blog commenting I'd like to share that it is a good way to find and make relationship with bloggers having same niche as you. Doing comment is a way of giving credit to the author; it is a good way to increase your presence in blogosphere. Engage with other likeminded bloggers, also to get comments on your own blog. Because you know that comments are also the part of the post. So it is cleared that blog commenting is not to be done to get a back-link to your blog, but have some more benefits for both Author and commentator. Isn't for both?
Free Online Tools To Find Relevant Bogs For Blog Commenting:
Now if you realizes that blog commenting helps in driving traffic to my blog and want to do blog commenting but don't know where I can find blogs that are relevant to my blog niche then you arrived at the right place because here we are, with some online tools which helps you to find relevant blogs where you can comment and that are related to your interest. So let have a look.
1.) DropMyLink:
Drop My Link is a great tool that helps you find a blog in which you're interested and where you want to comment. What does it do? The purpose of Drop My Link is that to find the blogs having the following features i.e
.Edu blogs
.gov blog
Angela's backlinks
Blogs having intense debate
Do-follow comments enabled blogs
CommentLuv premium enabled blogs
Anchor text enabled blogs
Etc
What You've To Do? Is to type a keyword in the search box and select an interest, Let you want to find some blogs having a post How to make free online phone calls, and the blog is also a commentluv premium enabled then you will have to type Free online phone calls in the search box and select the fifth option from the 'Find' drop-down arrow i.e CommentLuv premium enabled , Finally click on Search button, After clicking on that button you can see in the new tab, the blogs having a post on the keywords you searched and having a feature commentluv enabled.
Now here you can easily read the post and make a quality comment & get a free backlink for your blog from here.
2.) Putmylink:
Putmylink is just same as the above one. i.e that can be used to follow some relevant blog having a intense debate, commentluv premium enabled, as well as hub pages etc.
3.) Using Google Search:
You can also use google search to find some blogs having the feature you interested in, Here's how? Let suppose you want to find blogs having disqus commenting system then what you've to do is to search for Your Keyword "Powered by disqus", that how? Let you want to find the disqus enabled blog and having a post on topic free online phone calls, then you will type in the search box as Free online phone calls "Powered by disqus". Now see the results, here's what you were searching for!
So dear readers! Above we discussed two ways to find blogs for blog commenting, first there were some free online tools and second way was to use google search directly. I hope the post will help you in order to find relevant blogs when you want, either for backlinks or for any other purpose.
AbouttheAuthor:
This post was written by Basheer Ahmad, who loves to surf online to find & share something useful regarding. He recommends to Convert Your Videos Online Using Free Online Tools.