A Personal Shopping Cart and Wish List: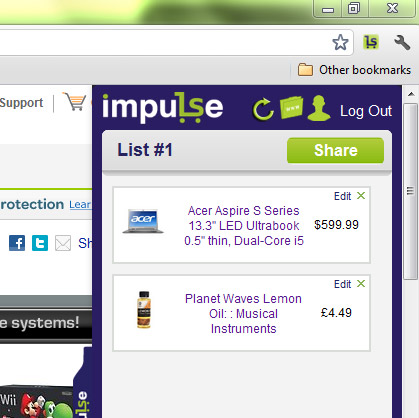 For those who do lots of online shopping, having a Google Chrome browser with the Impulse extension will make the shopping experience very easy and enjoyable. It is very easy to lose track of selected items when one takes time to check several items first. Other than clicking the buy button immediately, selected items can very easily be lost making the entire process tiring and time consuming. This extension allows the shopper to drop from several online stores selected items into a personalized shopping cart. These can then be selected latter for comparison and buying. It also acts as a wish list holding all that one wishes to buy until that time that funds will be available to purchase the items.

In essence, it is much like putting together a collection of bookmarks; however Impulse brings organization into a person's life therefore making the shopping experience much easier. This extension sits on the side of the screen so that when an item image is dragged to it, it adds the selected item to the collection it already holds. With this kind of collection, Impulse helps organize shopping and manage pre-shopping plans. With the already collected items, one can compare prices from different online store hence getting the best prices before making a payment.
Other than Impulse, one can add many other extensions to Google Chrome so as to assist in managing the shopping experience. Among these are:

Wishpot
A free service that allows the user save all the items one is shopping for in a single place. This may sound like the Impulse mode of operation however Wishpot has the options of creating the wish list that can then be share with family and friends. From here a friend is more likely to get birthday present and gift ideas.

PriceTrace
This, too is a shopping extension for Google Chrome and is credited with the ability to compare prices of a given product across more than 40 stores. PriceTrace collects information from many stores including Macy's, NewEgg, Best Buy and WalMart among others. From this extension, one can view the price history for the selected item and see how it has performed over time. Shopping has never been easier.

Amazon Wish List
Using this extension, the shopper, just like in the case of Impulse, is able to add items from various sites for future reference and purchase. The advantage with this one is that an individual can add some note to the item dropped into the wish list. It provides a very easy interface to view and add comments to the items in the basket.
Google Checkout Promo Notifier:
With this extension, Google Chrome users can make use of available promotions that comes with using Google Checkout. It automatically alerts the user if the sit e they are shopping from has any promos. During the shopping, a banner will just pop out to announce the availability of the promo with all the details and conditions of the promotion. One however does not have to respond to the offer, it can simply be closed and ignored. Google Checkout Promo Notifier works very well with Impulse since the shopper can know when a promo is available for the wish list and can wait as long as possible till one is available.
These extensions have proven to be very helpful for many online shoppers. Impulse keeps a shoppers life very organized and helps in planning the shopping by keeping he needed and wished for items ready when funds are available.
Download Impulse Extension Here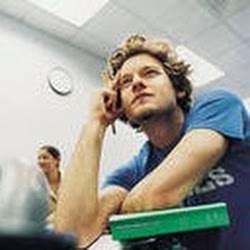 About the Author:
I am Russel Browne wants to provide some useful tips which would be quite beneficial to smooth the way of
Test4prep
exam clearance. Would you like to go through GIAC Certifications guide self assessment tutorials.