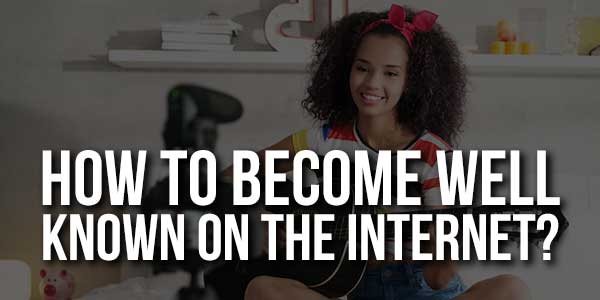 Have you ever thought of becoming an overnight sensation? Like, waking up to so many fans and loved ones.
It is not merely a dream now, as a lot of celebrities got viral from a single video and became an overnight internet famous. We are living in the era of social media, and there is nothing like impossible now.
We have some strong platforms, the Internet and social media that can make a random individual famous in days. You are always one picture or video away from becoming internet famous.
Internet is something that connects the whole world just by the use of technology. After the internet, the most world-changing thing is social media. It is an electronic communication through which you can share everything with people.
You can share your pictures, videos, and routine with people using the same platform. So, after this much advancement in technology, we get the answer to all our questions of becoming well known in the world.
You can also run a business through social media, like creating an online flex sprayer business. Use social media to make it popular and earn a living out of it.
If you want to become well-known on social media, you can follow these tips:
Find What You Want To Do:
The first step you have to take to start your internet journey is to select your niche. Like what is your secret talent and what you are good at.
If you are knowledgeable and passionate about something, you must go for it. The second option is to select something and learn about it.
For example, there are many known niches like travelling, makeup, daily lifestyle, cooking, vlogs, and many more.
After selecting the topic, it is time to work on your niche. Create content, like a makeup tutorial, vlog, or transition video.
There are multiple ways to create your content, and you can try them by adding your flavour to make up something original. After that, post it on social media and see how the night changes.
Choose Your Social Media Platform:
After selecting your path, the next thing is to choose your social media platform to pursue your social media journey. For vlogging, YouTube is best, for content creation, Instagram is more suitable.
There are several platforms like Facebook, Instagram, TikTok, Pinterest, LinkedIn, and YouTube. You can choose what suits your content, and start working on it.
With the help of social media handles, share your talent with the world. The most important thing is to select the platforms where you get the targeted audience. You can use social media demographics for this purpose. They help you grow faster and consistently.
Unique And Best Content:
Creating an account or being active on all social media platforms is not enough. What will you do with the account, when you don't have something to post?
So, making something of your own is necessary to get loved by people. Your content is the thing that will make you stand out. And it is essential to keep everything unique and original.
For example, to sell your Graco magnum x7, you can post its pictures and details on social media and help people reach you.
While making videos and pictures, make sure you use a good camera, and everything is visible to the audience.
Keep your content quality high because it is your identity, and people remember you for it.
Connect With Your Fans:
After making good videos and vlogs, how will you come to know whether your audience likes it or not?. For this purpose connect with your audience in comments and inbox.
Always reply to your followers in the comments, and respond to their messages and questions.
A lot of times, people ask questions about your lifestyle, dress, or personal life. Answer them and connect with them through it. It helps you grow faster. Always say thanks to your followers.
Doing this will give you the idea of which type of things people like, so for next time, you will create more engaging videos and vlogs.
Use Hashtags:
Hashtags drive traffic and organic flow on your page. They are present at the end of the post with the sign of Hashtag. The right use of hashtags generates traffic flow and increases your several followers.
Search the popular hashtags and add them at the end of your post, as it is one of the social media marketing techniques.
If your hashtag game is strong, nothing can stop you from getting popular on social media.
Be Yourself:
People who create their original content, get more popular than those who copy others. Original is original, and people do not get attracted by copy-paste.
The best technique to get popular on social media is to create something of your own. When you stay original, people relate to you and show you more love and support.
Post Regularly:
The best way to become well-known on social media is to follow the latest trends regularly. When you use the latest hashtags and trends, your reach increases, and more people get to see you.
It is a technique of getting popular on the internet, by keeping people engaged with one or another thing. Those who post regularly get more reach as they appear on Instagram and Facebook feed frequently.
The other way to get more followers is to do what the rest of the world is doing. Like, doing a popular challenge or a dance trend that is the current obsession for people.
When you stay connected to the latest trends, people look forward to you.
Don't Quit:
If you want to build your fandom, post more frequently. It does not matter if you get an immediate response, just wait and keep doing the hard work.
If you are a vlogger, don't wait for people to ask you for your next vlog. Just make it and upload it to maintain your consistency.
Above all, make links with other people and keep doing the hard work that leads you where you dream about.