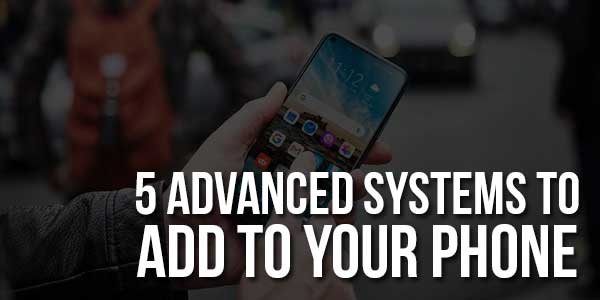 Some people say they can't live without their cell phones. The truth is, you might not even be using all of the features that are available. If you want to get more out of your device, there are advanced systems out there you can download that will give you the best experience with your phone.
There are many ways to use your mobile device beyond just making calls or texting friends and family members. You may have heard about some other apps that could make life easier for you or apps that are purely out there for fun and relaxation, like gaming or TV software. Maybe there are other functions on your device that seem foreign to you after owning it for so long because no one ever told you what they were used for. Well, now's the time for you to understand the functions of your mobile device. A phone is an amazing piece of technology. It's capable of doing so many things, but there are still some features that you want to have a better understanding of. With that said, let's go over 5 advanced systems you should add to your phone.
Google Advantages:
We've all had that problem where we see something exciting and interesting, but have no idea what it's called. Thanks to Google's algorithm, this dilemma can be avoided at all costs. When you see an object, appliance, or product that interests you, Google is there to help you find it online. When you're in the search bar, Google allows you to snap a picture of something and will tell you what it is, where you can find it, and where you can purchase it.
Battery Benefits:
Sometimes, we forget to charge our phones before we go to sleep, and they die on us during the day. Some people may even have an older phone with a weak battery. Luckily, there are ways to extend the battery life. One of the approaches that can be taken is turning on the "low-power mode". This method allows the phone to not use as much power when the battery gets low. You can also lower the brightness on your screen so that the LCD doesn't need to work as hard.
Another method to save your battery life is turning off the Wi-Fi and Bluetooth when there's no connection between the two. The Bluetooth and Wi-Fi will be searching for networks and connections, which makes your battery work harder. You can check out the battery usage by swiping down on your screen, or in the settings.
Wallpaper Extras:
Getting tired of the old, outdated stock photo wallpapers? Luckily there's a solution to this. You can add your own, personalized wallpaper to your phone. This can be done by grabbing the photo you want, going into your phone's settings, and adding it to your screen. You can either get a photo off of the internet or use your own. The choice is up to you.
Applications:
As you are probably aware, there are millions of apps that can be downloaded onto your phone. But which ones should you install? Honestly, that's all up to you. Whether you use your phone for photography, gaming, TV and movies, or purely just for communication, there is software out there that will satisfy your needs.
Do Not Disturb:
Unexpected texts and phone calls can become really annoying, really fast. We always get interrupted with notifications when we're doing something important. Even when the ringer is off, the buzz still gets on our nerves. Thankfully, there is a way to keep your phone silent when you need it to be. This is where the "Do Not Disturb" button shines its glory. This setting will keep your phone silent for however long you want. With just a push of a button, your phone won't disrupt you. This will allow you to stay focused on what you're doing without any distractions. Remember, this setting can be turned on or off at any time.
These are just a few of the advantages you can take to get the most out of your phone. Try some of these out, and have fun customizing your mobile device.