Recent stats show that more than 18% of minors under the age of 11 years prepared their profile on social media accounts. It's also speculated that minors are more vulnerable to online threats than most grown-ups. Despite age limits, minors are engaged with unknown people on various devices and social media sites.
Most social media sites have dire need of proper age verification checks to protect minors from social harm. Gaining access to the grown-up material online shouldn't be as simple as checking a simple question that says, "Are you 18 years old or not". Most often children are engaged on platforms that are meant for people who are several years old.
Additionally, as a strict measure – family and friends should have access to the teenager's private account to check their conversation with people online. Further, most verification methods on different social media sites are not a hurdle to pass. As it generally requires the user to be honest about their details but no one is really honest. Platforms make it easy and breachable for minors to put wrong information and gain access instantly.
Therefore, strict security measures are required to protect minors from illicit content. Social media platforms should put extra layers of age verification that would make it difficult for fraudsters to commit scams.
How Fraudsters Trap People On Social Media?
Social media has become a popular source to start networking with people.  Some preventive measures are necessary to deter fraud on social media platforms. However, minors should be made aware of malicious attacks that involve parental control overall online activities.
1.) Hidden URLs:
Parents should closely watch their children when they are opening URLs or links that might seem suspicious. Most often fraudsters put a link that seems like a trending new headline. After opening these links, users are directed to a scam website. From there, scammers have no problem stealing the user's identity.
2.) Phishing Attacks:
Minors can encounter phishing attacks that usually lead them to lose their personal information. For instance, if someone posted weird images of your child – it will automatically redirect them to another platform after opening the link. Opting for an age verification tool, the system would automatically authenticate users. It involves matching the person's real-time image with an image on an ID document.
3.) Catfishing:
People, most often children, are caught up in online schemes that involve finding their special one. Fraudsters create fake social media identities to fish out innocent people who want to begin a relationship.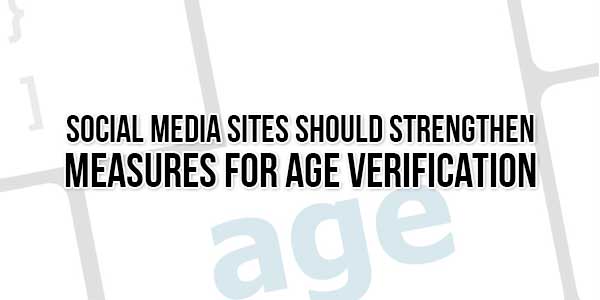 How Digital Age Verification Works?
By opting for an age verification solution, online platforms can save their brand reputation and generate user's trust. The solution helps organizations to onboard honest customers through login and transaction authentication. Fraudsters with malicious intent would stay away from making any attempts and avoid becoming victims of identity theft.
1.) Submitting Personal Information:
The user enters their personal information that includes name, DOB, address, etc on a system-generated online form.
2.) Uploading Government-Issued ID Documents:
The user uploads an image of their government-issued identity document that is submitted for verification.
3.) Using OCR To Extract Identity-Related Information:
The age verification tool utilizes OCR technology to scan and extract details such as DOB, name, address, etc. The system automatically performs verification checks to verify the user.
4.) Verification Of Results By Human Experts:
Upon successful verification of details, the age verification procedure is complete and users are either verified or declined based on the results. The verification solution utilizes artificial intelligence and the results are cross-checked by human professionals.
5.) Video KYC:
The minors could easily deceive the existing verification methods. Any extra layer of security with intelligent age verification would ensure vetting people for who they are. Video KYC integrated with an age verification solution could save minors from malicious attacks and service organizations to comply with age-related regulations. Video KYC would allow social platforms to verify users on a video call. This way, verification of social media identities can keep frauds at bay.
Staying Compliant With Age Verification Regulations
Regulations regarding age verification may vary as countries are moving to make regulations strict in their respective region. But, all these approaches are meant to protect minors against fraudulent attempts. Social media sites would also be required to stay compliant with new regulations regarding age verification.
As regulators are trying to regulate online platforms, secure age verification is necessary and mandatory for organizations to restrict fraudsters from creating fake accounts. It would inevitably enhance the brand's reputation while controlling scammers that try to exploit the weaknesses of their young ones. Lack of proper age verification software would result in fraudsters deceiving the minors.