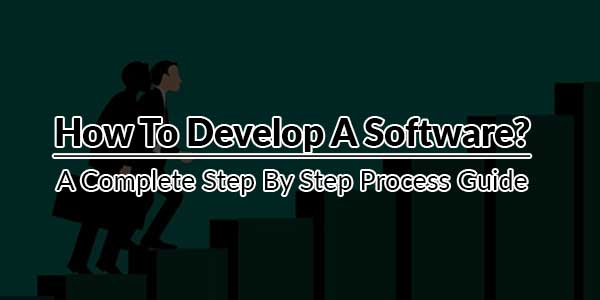 IT industry is growing tremendously day by day. In today's world, the IT sector becomes an important part of all other sectors as well such as – business. All types of businesses are trying to join the online community and increase their service area by improving audience reach. For it, everyone needs to get the assistance of software that can represent themselves or their business to achieve the desired objectives. In the upcoming paragraphs, you will get complete information related to the software development process.
Software Development – An Introduction:
Completion of a process with creating, designing, development, and maintenance & support is considered as software development. It helps the individuals in getting a specific web application or a source for online presentation perfectly. There are mainly three types of software such as –
Programming software
System software
Application software
All these software are useful in completing different types of tasks like – operating system functioning, editing or creating tools, office suites, and so on.
Process Of Software Development:
Software development requires lots of skills and knowledge. It will be possible with the assistance and services of professionals only. At different stages of development, there are different types of professionals required.
Coders or Programmers
Software Engineers
Software Developers
All professionals are playing an important role to develop perfect and fully functional software. Here, you will get fully explained information step by step.
Step – 1: Analysis & Planning:
The first stage of software development is completely based on analysis and planning. These two factors are going to provide lots of benefits in the future and help in preparing a good base. For proper analysis and planning, the development experts are focusing on some basic elements such as –
How does software assist in achieving business goals?
What kind of resources do you have to represent?
How the software development project is going to synchronize with the company activities?
How much money do you have to spend on getting the desired results?
With analysis, the experts are capable of gathering such information easily and quickly. On the basis of such data, planning becomes easier and more effective. While creating a proper plan, you have to get assistance from different departments like – developers, operations, key stakeholders, project managers, and security.
Including all these personnel will help you in avoiding any kind of confusion easily and come up with efficient and effective solutions. The solution will help you in coordinating all types of actions and performing activities easily.
Step – 2: Check Out Requirements:
For developing perfect software, you have to figure out the requirements first. While focusing on the requirements, you have to keep each and every aspect in the mind like – you are going to develop an application, an update of existing software, or redesigning the website.
By having clarity regarding objectives, you make the professionals understand the main reason behind developing the software. One thing that cannot be ignored by anyone is customer satisfaction. In case you are working on developing a specific feature or focusing on redesigning, then may your main reason is improving customer services. Here, you have to check out the following queries.
What are the main problems you want to encounter?
Who is going to be your target audience?
How can your target audience access the software?
How are you going to manage privacy and security?
Do you want third party integrations (tools or APIs) with software?
What kind of data is received and delivered by the software?
Answers to these questions will help you in identifying the requirements deeply and make sure what kind of software & features you want. By considering such information as a base, the developers start working on the technical requirements and testing terms. It will be useful in getting desired and fully satisfying results.
Step – 3: Designing & Prototyping:
After gathering complete data in the previous two steps, the professional looks ahead on the designing and prototyping. In the designing phase, the experts start building the appearance of software and present how the software and its interface are going to appear. With all these things, the professionals are also focusing on the functionalities and the way in which it serves the users.
To get beneficial software, you have to understand the users first. In case you don't understand them and their motive of using it, then you may not design the software that can satisfy their needs. It is not good from the business point of view.
Step – 4: Software Development:
Now, it is time to execute the plans and follow the designs. Here, the coders and software developers start putting their effort to bring the plan into existence. Mainly these tasks are considered as the backend tasks, where the professionals are dealing with web servers and complex coding phases.
Mainly they are following the plans, ideas, and designs created for building software likewise. It is the hardest part of the complete process and requires extra attention. In case you do not give proper attention and take it carelessly, then it may lead to some serious issues.
These types of issues are going to create hurdles in functioning and provide bad experiences to the users. Hiring a good software development company can be a great solution for all these things. The best company has a team of experienced and skilled professionals who can deal with all types of challenges easily and deliver quality results only.
Step – 5: Testing:
When the professionals are done with development tasks then you don't need to hurry for publishing it. Here, you have to keep some patience and consider a testing phase first. Running a software test will help you in figuring out, it is developed perfectly or not by testing all functions and features. These things are useful in identifying the errors in software if any.
Along with it, you should try to be focused on the user-experience stats. Your platform should be good in user-experience by which the users can easily understand and access its services quickly. In case you find any kind of issues or errors, then you should initiate and prepare a proper solution first. You should not launch software for services with any kind of errors that may frustrate your audience.
Step – 6: Deployment:
After getting perfect reports from the testers, you should proceed with the deployment task. In deployment, you need to launch the software on the internet and keep it open for accessing everyone. During this particular stage, marketing and promotions are going to become the pillars. Digital marketing is useful in extending the reach and introducing the software in an impressive manner. It will help in grabbing the attention of others.
Step – 7: Maintenance & Updates:
The maintenance & updates phase never comes to an end. It is an essential thing to keep the software running smoothly. For such a task, you have to hire experts who can run different types of tests timely and focus on all aspects related to the software. Regular testing helps in identifying bugs or errors before it may start affecting the performance.
Consequently, you can figure a perfect solution for such an issue quickly and take preventive actions. Regular updates will help you in managing and running software as per the recent market trends. All these things can assist in providing a better experience to the users.
Final Saying:
It is the complete process of software development. All professionals are working in such a manner. In case you don't have the proper technical knowledge, then you should not make the mistake of pursuing it on your own. Here, it becomes important to get assistance from professionals and hiring software development experts.