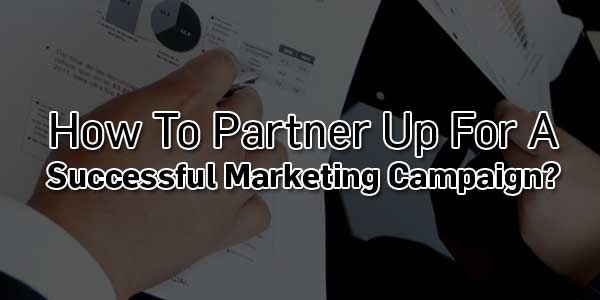 You have probably heard the old saying, "Two heads are better than one". This idea generally refers to what can be accomplished when two people put their heads together to solve a problem or achieve a common goal. The same strategy holds true when businesses partner up to make a go at executing a joint marketing strategy. The following are a few tips that explain how two businesses can partner up to carry out a successful marketing campaign.
Operate From A Common Goal:
Generally speaking, it makes sense for two businesses to partner up for a marketing campaign if they share some kind of common goal. This could be because they support a similar cause, or because they have products that complement each other in some meaningful way. Once this common ground is identified, this provides a partnership with a foundation around which to develop a marketing strategy.
Share Consumer Access:
Sometimes two businesses partner up to gain exposure through marketing to each other's established reach into the consumer base. This makes it possible for each company to connect with a part of the consumer base for which they would not normally have easy access. Often this will spark an increase in website traffic and sales volume for both companies involved.
Share Resources:
When it comes to successful marketing campaigns, having the resources to make this happen is key to getting everything up and running smoothly. This could mean that one of the companies serves a critical role as the digital marketing partner in this cooperative marketing endeavor. The other company will play a critical role too, such as providing funding or some kind of expertise that complements the overall marketing strategy in one fashion or another.
Meet Deadlines:
When planning to run a successful marketing campaign with a partner company, it is critical that each company strives to meet any and all planned deadlines. Failure to meet deadlines could hinder the progress of the marketing process. By meeting deadlines, this will help to save both companies time and money over the span of this partnership marketing strategy.
At first, the idea of partnering with another company for marketing purposes may seem as if it should be a hard thing to do. It is normal for there to be some initial worries and concerns because both companies will have to work hard to achieve cohesion and, ultimately, a meaningful degree of marketing success. Once this success starts to unfold, it will become evident that this is a win-win situation for both companies involved.