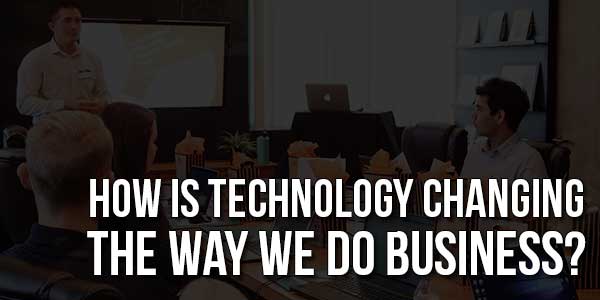 Technology is not just putting an invention on the market and then waiting for people to buy it. It is much more than that, and this fact is proved by the ways it has changed the way we do business now. Back then, when there was little advancement in technology and people had no idea of using it properly, there was no change in the way people used to do business.
In the last decade, people had to work hard to get to a place where they can present themselves and their business in front of people. But now during the last few years, technology had everything very easy. Now starting a business is not as difficult as it was. It is because of advancements in technology and the way people doing business. In 2020 things changed drastically especially how people looked at business.
Everybody was in lockdown and because of covid-19 restrictions people were not able to go out and earn a living. So, everybody started doing work from home, and it was possible because of the technology everybody had in their hand. Online work or work from home became a new normal, and people started connecting with others through social media and their mobile phones.
If you take the time machine ten years back, you will see that there is a huge difference between the ways people do business back then. There was no concept of work for home, and at that time, people used to work in a centralized work environment. The nine to five job is not a preferable job for people, everybody thinks broader and having one own business is a new trend now.
Technology has given people the privilege to start something of their own even if it is small. In this article, we will discuss some of the ways by which technology has helped people change the way they do business.
Communication:
Communication is the first change that has come in the way people do business now. Back then, there were limited sources, and people used to connect with emails. Now there are options like Microsoft teams, zoom, and different Chatbots that allow online communication with no hurdle. In the past few years, when email was the only source of communication, it was tough to communicate with both your customers and teammates.
There was less coordination, and the information that was shared was also limited to some point. Now due to easy internet access, online communications ways are used for multiple purposes. like zoom, meetings are used for conducting business meetings. They also help in sharing business information or announcements. Now people in business can also communicate with their customers directly and there is no delay during the communication.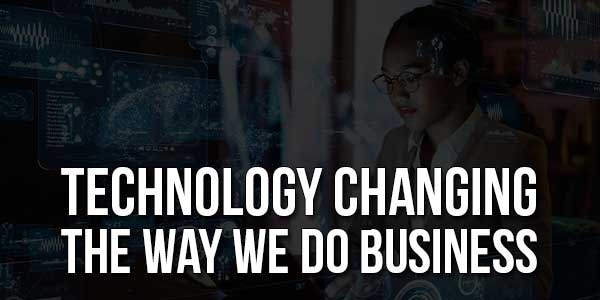 Mobile-First Business Environment:
Now it is time where everything can be managed with a click of the yes button. And it is because of the mart technology like a smartphone, tablets and other such devices. You can use these devices to create invoices, check your sale, and can download different software for business management. Now these entire matters are much easier to handle than before.
You can use smartphones and your tablets to connect with your co-workers, customers, and other people who can play an important role in your business. You can use smart technology to see how your business is growing and how many sales you are getting. You can use these technologies to share your business details like product descriptions and contact information on your social media and help yourself in growing your business.
Increased Collaboration:
When you are doing business, collaboration is an important aspect. You have to collaborate and co-ordinate to get success in this field. For this purpose, you have to call meetings and gather everybody around you. And it takes a lot of time to call and bring everybody. Now, due to advancements in technology things are much easy than before. You do not have to wait for email replays and other people to come to the conference room for a meeting.
You can simply call a zoom meeting for a collaborative discussion, and it takes no time. You only have to deice a time for the meeting and make sure that you are a part of the meeting on time. You do not have to travel miles to reach for the meeting you attend anywhere you have internet availability. It is possible because of advancements in technology and due t the invention of the internet. Now you can collaborate with people with whom you want to work even if there are sitting abroad. There is no shortage of collaboration tools as they are a lot in number.
You can use Google sheets, Microsoft Share points, slacks, and other such tools for collaborations tools. They are really helpful for multiple collaboration tasks.
Social Media:
Now for running a business, you need to have a social media presence. Back then, there was the concept of having an account on Instagram or any other social media handle for running a business. But now for growing your business it is essential to have a social media presence. It is because there are millions of people on social media, and to reach them, you should have an internet presence. Now for running even a small business, it is essential to have your Facebook or Instagram page. It helps you in growing, in increasing your sales and revues cycle.
Increased Employee Productivity:
Now for every business, there is a need for someone who knows how to use advanced technology. For starting a business you need smart people who are aware of different software. Only they can help you in running your business through the web. Even for small business programs, you need computer software and a web developer to create and run your business website. Now there is less manual work and more computer work.
So, with time due to changes in technology the employee productivity has increased. You need more people to handle your business smatters than before, and it is because of the increased demand for work. Also, as marketing has also changed you need people for advertising your business in the market on social media and other platforms.