Ever thought about utilizing LinkedIn as a platform to promote your business and increase lead conversions? Using LinkedIn for marketing is a gold-mine that shouldn't be neglected.
LinkedIn boasts of 645 million users worldwide who are professionals from all walks of life. If exploited properly, it will be an excellent platform to grow your business and get more clients from your target audience.
Having an active account on LinkedIn helps you to reach and connect with new people; thereby, broadening your brand's reach. Having an inactive account makes you look unprofessional to your audience and decreases the chances of networking with the right people.
Effective use of the LinkedIn platform helps to build brand awareness and recognition. As an entrepreneur, you get to showcase your skills and create more credibility for your brand. With this, you can stay relevant, and your audience will know that you are the go-to person in your niche.
To properly promote your business on LinkedIn, there are specific steps to take to achieve that, and this article will highlight the top 5 tips to succeed:
#1) Optimize Your LinkedIn Profile:
The information on your profile should be vital to your brand. Your LinkedIn profile should convey your identity, what you have to offer, appearing on searches, and so on. Optimizing every part of your account makes you quickly found by clients and other professionals looking for your services. An optimized LinkedIn profile shows that you are an active user and will urge more clients to associate with you.
The sections of your account that you must pay attention to and optimize are:
Profile Picture: Select a picture that portrays you as a professional, up close, and easy for clients to recognize you.
Header Photo: It should be a simple background without clustered elements that could confuse your followers.
URL: Your LinkedIn URL must be customized so that it can easily be linked to you and make your profile quickly found.
Summary: Let your audience know the skills you have and how valuable your services can be to them. Also, adding keywords will make you rank higher in Google and LinkedIn searches.
Work Experience: You can let your audience know about the place worked before and the position you held. It is also an avenue to let them know about your availability.
If you go through your LinkedIn feed and the content doesn't depict the image of your brand, then you are not interacting with the right individuals and brands. When you want to promote your brand image, you must mix up with similar brands and professionals to be recognized as an expert in your industry. This could bring recommendations for your brand.
#2) Share Relevant News On Your Feed:
LinkedIn is a platform to network with industry influencers in your niche. Building your LinkedIn network shows others the level of expertise your brand has, which can be used in promoting your business.
Being active on LinkedIn attracts the right connection, and sharing relevant content on your feed is one way to remain active. Whatever you share on your feed, is eventually shown to your LinkedIn connections. This is why you must be careful about the content you share your timeline and ensure they are relevant to your brand.
Another way to remain active on LinkedIn is by sharing the content of other experts in your field. So, feel free to send connection requests to former partners, clients, colleagues, and influencers in your industry to share related news and content on your timeline.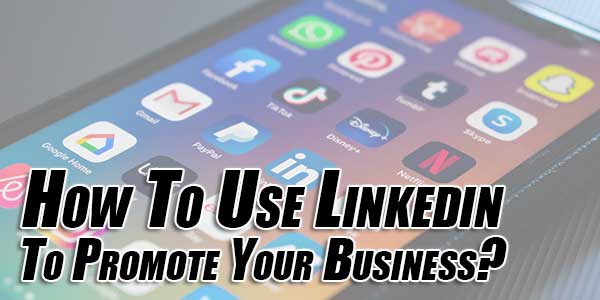 #3) Post Original Contents On LinkedIn Publisher:
Content marketing is a great business promotion strategy. It is a sure method of getting leads and generating traffic for your website organically. Studies have shown that 72% of advertisers believe that content marketing has helped them in building brand image and enhancing engagement.
Content marketing is a pocket-friendly inbound marketing strategy that has been proven to work overtime. It can lead to business growth and brand promotion, which is why LinkedIn Publisher is vital.
The LinkedIn publisher makes it possible for you to publish your blogs for clients to read and share them. Envision the effect of getting your posts shared by different people across various platforms. This can bring multiple opportunities for you as your content has a high tendency to be viewed by an investor.
Publishing your content defines you as a force in your industry, which means you can have your followers and create your community who will be loyal to your brand. When your readers see that the content you offer them is valuable, they will take an interest in you and will want to find out more. This is a powerful way to market your brand without being pushy or appearing as a seller.
#4) Create And Optimize Your Company Page:
LinkedIn gives businesses a chance to create a company page with insights concerning their services and the products they offer. A company page enables potential clients to have a knowledge of what your business does and how it creates a solution for their problem.
You can quickly get organic traffic to your site if you have a company page. Write page descriptions with keywords related to your business to optimize searches. It creates a connection between your brand and users by providing more information about your brand and nurtures loyal followers.
Company employees have ten(10) times more social reach than the organizations they work for; it's essential to allow your employees to share their content on your company page. This will pave the way for users to see the team you work with and connect easily with your brand.
When creating a company page, remember that it should cater to most LinkedIn users. This could be done by translating the page using reliable localization services like The Word Point for users of other languages. There are lots of potential clients out there who may not know about your brand due to the language barrier. Use your company page to overcome this obstacle and scale your business further.
#5) Get Enough Recommendations:
People find it easier to work with organizations they trust, and the same applies to LinkedIn. Recommendations on LinkedIn helps to prove your brand credibility. Simply reach out to past and current clients, former employers, old and current colleagues, and ask them to leave a review and recommend your business. This creates a sense of trust for potential clients, prompting them to work with you.
Final Thoughts:
If growing your business is your top priority, then being on LinkedIn is a sure way to do that. When it comes to promoting your brand on the LinkedIn platform, you should focus on creating a profile that outlines your business well, building relationships, and sharing engaging content for your followers. If you can do these effectively, you will gain recognition in no time.