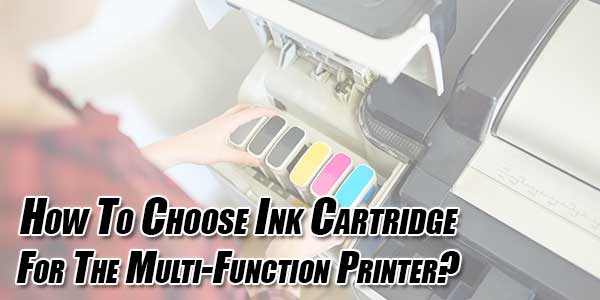 Choosing a printer cartridge for the multifunction printer is not a daunting task if you are following a proper set of instructions. Every printer manufacturer sends a user manual along with the printer to guide for the right type of ink cartridge. You just need to go through it before buying it. Apart from this, you should also consider monthly print volume to save money and hassle or recurring buying. Here we have a list of six other ways to choose printer cartridge.
Check Printer Cartridge Number To Avoid Mistake
Check Printer Make And Model Number Before Ordering
Decide Between Standard Or High-yield Ink Cartridges
Select Between Original Vs Compatible Ink Cartridges
Are You Interested To Buy Remanufactured Ink Cartridges
All Compatible Or Remanufactured Ink Cartridges Are Different
1.) Check Printer Cartridge Number To Avoid Mistake:
Some multifunction printers have six cartridges and others have three two four in the range of CMYK. therefore, it will be based on the printer model that you have chosen. For example, if you are using HP Officejet pro 6230 printers, HP 934 and HP 935 are ideal choices. Because these printer cartridge models are specifically made for a particular printer size and needs.
While buying ink cartridges online or from retail stores it is essential to have the right printer cartridge information regarding numbers and models. You can also find details from:
Check old/original ink cartridge name and number. You can also see the user manual to get detail information regarding cartridge. This will help you to choose and replace the cartridge with the right printer cartridge.
A label is also printed on the cartridge displaying the name and other details. Therefore, some manufacture sends a card with a cartridge having all the necessary information. Check this small card from your cartridge box.
Keep in mind, the printer cartridge model will be the same if you are shifting from one state to another. But if you are changing the geographical region will vary. For example, if you are in America and want to order cartridge for the "HP OfficeJet 4620" printer model, order "HP 564". Whereas in Western Europe order "HP 364".
2.) Check Printer Make And Model Number Before Ordering:
If you do not want the previous cartridge or cartridge manual, there is another way to order an ink cartridge. Check your printer model number before buying a cartridge. For this, you will need:
Manufacturer details: This is also called make details, where you check the producer's name and logo printed on the device.
Model Information: This information is normally available at the backside or bottom of the printer.
For example, if you are looking for canon ink cartridges, visit online canon store and choose the cartridge as per the printer model. You will get a cartridge that you are looking for.
Remember, while buying do not forget to check and match the given information required. Otherwise, cartridge won't fit into your printer and you need to look for another one.
3.) Decide Between Standard Or High-yield Ink Cartridges:
Ink cartridge comes in basically two types – Standard Cartridge and High yield cartridges (XL and XXL). Based on your needs you can choose the right one. But how to identity need? This is an important question, for this, you need to examine the number of printouts you had taken before from old cartridge. You can also consider the followings:
Go with standard page yield cartridge if you print occasionally or using the printer for home purposes. Firstly, the bigger size costs you more. secondly, there can be issues related to the clogging of ink due to nonusage from a long period.
If you deal with bulk printing, using XL or XXL size cartridges will be a good choice. As these will cost you less compared to two standard cartridges and print almost 50% more.
Bear in mind, while estimating printer cartridge manufacture always consider standard conditions of operating with 5% more coverage. So, if your output varies with 5%, do not worry its a normal. But normally their page yield capacity is higher than third party ink cartridges.
4.) Select Between Original Vs Compatible Ink Cartridges:
Original cartridges are specifically designed to work with a specific printer model. Therefore, they deliver the highest printing quality. But the high cost of printer cartridges is the biggest concern. As people always look for canon ink cartridges options to cut costs. Remember, the original Equipment Manufacturer (OEM) spend a large portion of income on R&D to make the product better than before. Ever product of these manufactures has consistency over printed-quality.
On the other hand, compatible cartridges are produced by third-party manufacturers. They prepare ink considering the universal printer model, therefore charge less than Original cartridges. One can lower printing cost straight 50% considering these cartridges. But, you need to sacrifice for quality than genuine cartridges.
5.) Are You Interested To Buy Remanufactured Ink Cartridges:
Remanufacture cartridges are recycled from old cartridges. Manufacture of these cartridges refill them and change the damaged parts. These cartridge manufacturers do not spend any amount on R&D as the original does. As results charge less for every product. If you want to save the environment from landfilling, you can avail these cartridges
6.) All Compatible Or Remanufactured Ink Cartridges Are Different:
Whether you are using the printer for home use or official purpose, you may have observed the high cost of printing when using an original cartridge. This is due to the high cost of genuine ink cartridges. The reason has been explained easier for their high cost. Therefore, people choose to shift from original to compatible or remanufactured options.
Keep in mind, only buy the compatible or remanufactured cartridge from the authentic seller only. Otherwise, it can die your printer before natural death. Even there is a number of vendors that sell original cartridge at affordable prices. Considering them will help you to buy the genuine cartridge at a low price.
But if you still want to buy the cartridge from compatible or remanufacturer, do not forget to check:
Who is selling printer cartridges under different brand names?
Whether he is ISO certified or not?
What is his replacement or refund policy?
Is there any information available for phone or email id where you can complain in case of a defective product?