Customised products have become the most popular choice for marketers and advertising campaigns for many years. Now, the advertisements on the internet provide such great details on tracking the results of advertising. Therefore it is important to show that customised products and brand gifts have a positive effect on your brands and sales.
Let's know the reasons why businesses prefer personalised products to advertise their brand:
Increase Brand Awareness:
Personalised products are an excellent choice to show off your brand. As per the survey, 90% of the people use advertisement products once in a week or more often. Whereas, rest 10% of the recipient passes the advertising gift to their friends or family members. Among both conditions, 87% of the people found keeping and using the gift item for more than a year, which is a great figure in itself that ultimately affects the brand goodwill in a positive way by making a hand to mouth marketing.
Build Company Impression:
Customised products are actually an expensive advertising solution for your business. As per the general study, it was found that 14% of the people buy goods after viewing a print ad, 8% of people made a purchase after watching TV commercials, 5% made the purchase after seeing an online advertisement whereas 24% of the people buy after receiving customised products. Therefore, it is also found that the ROI on personalised products is higher than any other outdoor advertising mode including print and TV media.
Affordable Mode Of Advertisements:
With the vast variety of advertisement products, they have proven itself the most affordable, useful and tangible mode of brand promotion. The businessman can choose any range of personalised products from least cost to high price gifts. So, you can choose what fit according to your budget. But after receiving the gift, 42% of the people feel more favourable impression, 60% of the recipient prefers to do business with the brand, whereas for 27% of the people gifts work as a constant reminder.
Help You To Stand Among Competitors:
Using customised products always helps the brands to stand among other competitors. As there are so many options with the brands to choose from the pen, mug, jackets, shits, pen drives or bags at most affordable cost. So, you can choose any item but that must have the ability to keep you one step forward from your competitors. Moreover, these gifts benefit the business to reach a wider audience with the least efforts.
Increases Lead And Generate Sales:
Advertising items act as more than just branding tools, moreover these help in generating leads. As the promotional items put a long-lasting impact on the recipient, therefore the ROI is higher for these items. These products also act as referrals for the receivers in many ways. Moreover, these gifts also help in attracting others by when they saw the recipient using the promotional gift.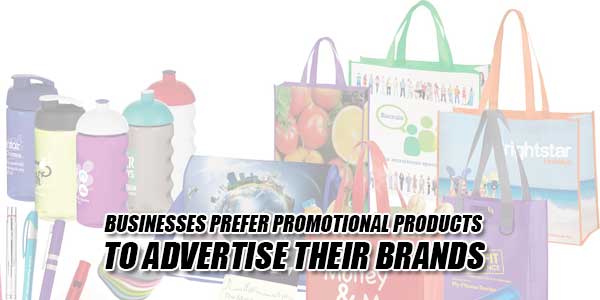 Top Promotional Products Preferred By Brands:
Here, we have a list of top promotional items categories prefered by major brands with their sale percentage:
| | |
| --- | --- |
| Items | Sales % |
| Wearable | 34.28 |
| Drinkware | 9.45 |
| Bags | 8.24 |
| Writing instruments | 7.77 |
| Desk | 4.77 |
| Computer products | 4.75 |
| Calendars | 3.15 |
| Trophies | 3.48 |
| Textile | 2.81 |
| Electronic Device and Accessories | 2.20 |
| Houseware tools | 2.12 |
| Leisure/ sports items | 1.94 |
| Health and safety products | 1.78 |
| Games | 1.15 |
| Food Gifts | 1.41 |
| Automotive Accessories | 1.45 |
| Personal products | 1.09 |
Bottom Line:
The aim of every businessman to grow in a rapidly changing environment. But to fulfil your aim they have to work on long term marketing strategies. So, there is no other better way than choosing the right personalised product for your business promotion. So, from the wide range of above-mentioned category, you can choose an appropriate merchandise item that suits your business needs.