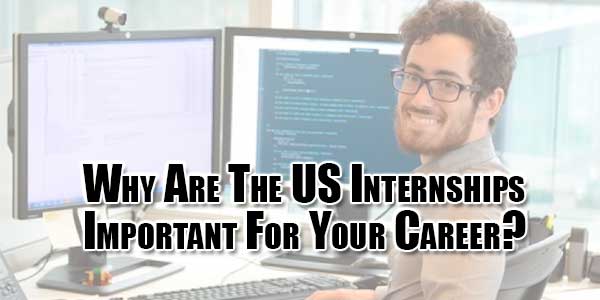 The USA is a land of exciting and bright career prospects. When it comes to internships in the area, it is beneficial for students across the nation and the world. Internships are valuable when it comes to gathering industry exposure and practical experience in the work field. They help you bag good jobs, and after your graduation, you can kick-start on a lucrative global career without hassles at all.
Why Are Internships Important For Your Career?
Many students tend to shy away from internships primarily because most of them do not pay. However, this is a wrong notion. Some companies pay you when you are doing an internship. They will help you gather the industry experience and exposure that you need when you are keen to gather valuable professional and work expertise in the market. They are instrumental when it comes to making you work ready for the career or the industry that lies ahead and this is the sole reason why they are important to you as a student. The experience of an internship will help you now and in the long run. It also will ensure that you get the confidence and the skills that you need in the job market today.
Companies Prefer Candidates That Have Undergone Internships:
Most companies prefer candidates that have experienced internships. These companies, of course, will give importance to US internships as they have much value in the global job market today.
Get A Realistic Experience Of The Work Field:
Students with the aid of these internships can get a first-hand view and image of the work area. They will learn how to work in a real office with people. They learn the skills of team management and communication. They will also learn what it takes to work in a professional environment with responsibility. They will be asked to make project reports or a presentation. During the time of the interview, this report and presentation will play a vital role in landing them the job that they are looking for. Some companies prefer the said student so much that after their graduation is over; they land up bagging employment in the company that provided them with an internship.
It is crucial for you to take an internship if you are a student. The internship will help you bag your dream job without hassles at all. At the same time, you will become work ready and gather the invaluable experience it takes when it comes to industry knowledge and skills. Students that undergo internships in the USA receive a higher preference in the job market.
Choose your internship in the USA with care. Ensure that you take the help of a student advisor if required. With the right internship, you will actually kick-start a global career, and there will be no looking back for you at all. The right internship will help you grow and become a successful corporate professional too!