Selection of a right email client is a long process for the individual or corporate users. However, there are multiple email clients available in the market, but the identification of a most useful application is a complicated process. Sometimes, a particular email system is suitable for your current need but it fails to map the vision of business or individual's expectation. In this situation, the converter software plays a vital role to change the entire email platform through the easier process. So, it gives the second term to users to find a right business email as per latest market trends.
The Purpose Of The Review:
In this review, we are going to test all components of Stellar MBOX to PST Converter. We check the feasibility of software for migration of large-scale business migration with up to 55 user accounts.
The core parameters to judge the efficiency the software as follows:
Speed
Turn Around Time
Accuracy of The Result
Deviation from The Expected Output
Vision for Business Model
Testing Environment:
In our California based research and development lab, the configuration on tested PC is:
PC: Dell OptiPlex 24 7000 Series – 7440
Processor Name: Intel Core i5-6600
Processor Speed: 3.3 GHz
RAM: 8 GB
Storage Capacity: 256 GB
Operating System: Windows 10
Source – MBOX Client: Mozilla Thunderbird & Version: 38.0.1
Target – Microsoft Email Clients: MS Outlook 2016 & Office 365 Environment
Product Specifications:
Product Name: Stellar MBOX to PST Converter – Technician
Version:2
Download Size:5 MB
Installation Time: 21 Sec
Free Demo: Yes
License Type:Tech User Licence: User can install the software on multiple systems
Price: USD 199
Official Product Page : http://www.stellarinfo.com/email-tools/mbox-to-pst-converter.php
Initiating Migration With Stellar MBOX To PST Converter Software:
With the above configuration, the testing team collected around 55 email accounts of Thunderbird. As per their recorded findings, they converted all emails could have on Thunderbird accounts as many as 70,000 emails. Now, I want to explain the steps-wise working of the software (Stellar MBOX to PST Converter –technician V2.2) to create awareness about user manual.
Below is the main user interface of the software: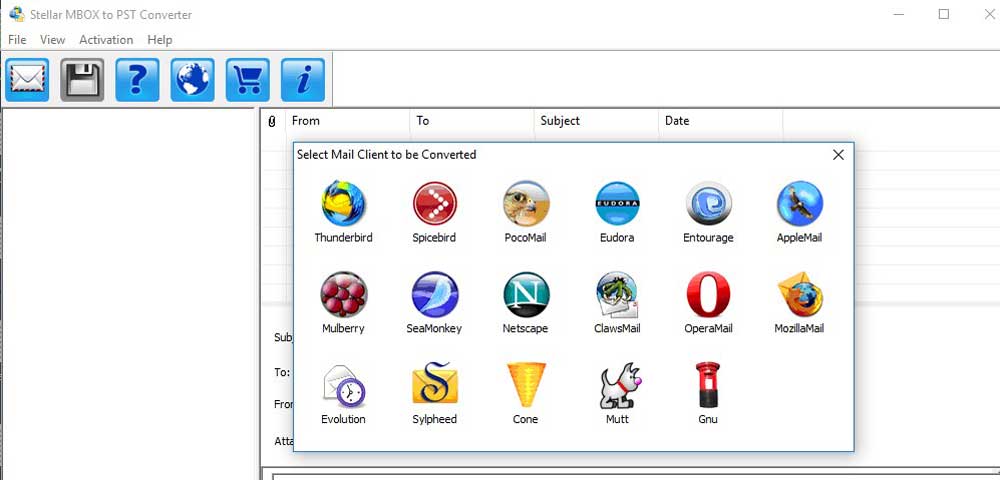 In this section, users have the option to select the email client of their MBOX file. Here, you can find 17 emails clients (Thunderbird, Spicebird, Pocomail, Entourage, OperaMail, Mozilla Mail, AppleMail, Eudora, Mulberry, SeaMonkey, Evolution, Sylpheed, Cone, Netscape, ClawsMail, Mutt, Gnu Mail) that are creating MBOX file.
Now, if we select anyone, then a dialog box appears.


Then, you can select the MBOX file through 'Select File' option. Even, you can select the Identity folder through 'Select identity Folder' button.
The 'Select Identity Folder' option is very helpful for converting multiple MBOX files in a folder.
In case, you have no idea about the actual path of MBOX file. Then you can fetch it automatically through 'Find File' option.
For non-technical users, 'Find File' is a like a helpful hand. Then, it will search for the MBOX/MBX files in each folder, subfolder and identity folders in local drive. It will show the list of all MBOX files in the 'Find Results' section.


Now, Path is selected which you want to convert and click on 'Convert'.
In the preview window, all the converted emails and other items will be displayed in left side tree. Now, you can browse and check every item of the mailbox by selecting the folder.


Now, you can save the converted emails into desired file formats like Office 365, RTF, PDF, and HTML.

If you are looking for Office 365 file format, then Connect to Office 365 through Login by entering the E-Mail ID and Password and click OK.

This software also helps you to save the converted PST file at desired location.

Verdict:
I have analysed the report and found that it converts 100% emails from MBOX file to PST file format. Overall, it is an impressive tool for administrators and large scale corporates. As I assume, support of Office 365 is the ladder of success to achieve business vision.
Ratings:
Speed: 4/5
Accuracy of The Result: 5/5
Reliability: 5/5
GUI: 5/5
Note:
This review is based on the findings of technical lab. Users are requested to test free demo to check the performance of the software.