The power of using social media is through communicating in local languages. When you are saturated within your state or local market and want to expand, knowing the local language of other places is important. And, this is the same with websites and other materials like ads, prints, and stuff. Irrespective of your headquarters lurking in Asia, Egypt, Saudi Arabia, Japan needs curated content that their population can understand.
Here are 4 tips on setting up multilingual businesses and factors that boost productivity.
1.) Power Of Informal Tongue:
When speaking, making speeches, idioms and metaphors in your writing, direct translation with third-parties is a big blunder. The social media sites are the best examples to show their penetration that too rapidly in countries. They are the ones which offer language support of a large set. If you have staff that talks and communicate in the native tongue, it helps your business grow in the region faster.
2.) Instructions And Manuals:
Most of the time when gadgets are purchased and a thing go wrong, you open the information leaflet. Imagine it being in Chinese and everything goes haywire inside your mind. The same goes on with other when buying products manufactured by brands from USA or UK. Most of the time they offer manuals in all the languages they support, this is because they wish to serve several demographics and keeping all together is a better option because you can't guarantee which product lands where.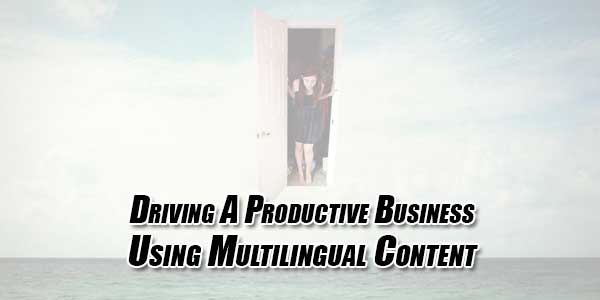 3.) New Doors Open Up Fast:
When talking about opening new doors, we mean expansion. As the number of non-English speaking countries is increasing on the internet, this brings more and more concern for websites and popular brands. From ads, prints and media they are all changed to serve the local population. Everyone knows that customer is still king and for growing your market into these new demographics, in-house translation is necessary. It is important to invest in multilingual content even before launching into a new market.
4.) Business Relationships:
The way people maintain good connections with their customers, bosses, and employees is through the help of communications. Gifts, messages, welcome or farewell tokens and all would not be possible with the language barrier. This should be solved with in-house translation and multilingual content creators. It is the only solution.
For your business to prosper without bounds, your brand must invest in multilingual content and content creators. Using third-parties is never an option here as is, because of their state right now.