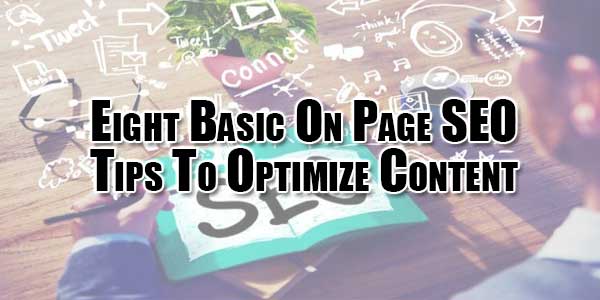 SEO, search engine optimization is the ever-changing and more complex marketing technique used these days. But there are things that will never change in search engine optimization and some never stops changing. In fact, there are only little reliable methods or tools to rank high in the search engines and that's what the web designers and marketers are running behind. Therefore, if you want the maximum visibility in the search engines, it's critical to stay updated with the best practices used in the SEO field.
Here, in this article, I've compiled a list eight basic on page SEO tips to optimize content. Have a look!
1.) Have Quality Backlinks
Backlinks constitute around 80 percent of the entire SEO. The game is when all modern search engines want to see that your site is referred by many other related sites on the internet. By doing this, you can improve your reputation in search engine rankings and it will communicate Google that your site is compelling to readers. For getting massive backlinks, you need to upload articles and profiles in the Google directories by using SEO software. To increase links to your sites, you can use link building strategies. If you're good at content creation and content marketing, then you'll get the links automatically. If not, then you can seek proactive link building opportunities.
2.) Get Rid Of The Bad Backlinks:
If, your website has worked for some time, then you need to have a look back on your link profile. It helps you to find whether the site has bad links that are negatively influencing your Domain Authority. You can also use Google Webmaster tools to check the warnings about bad backlinks.
3.) Image Optimization:
You might have noticed the related images posted between the blog posts. As a matter of fact, images not only makes your content look attractive, but it also plays a major role in optimizing your posts on the blogs. You can pull extra traffic from search engines with the effective use of images in the blog posts.
4.) Guest Posting For Backlinks & Exposure:
The first thing that you need to keep in mind while choosing a site for guest posting is that; is the site pertinent to your website/industry. Secondly, always make sure that it's the quality site for guest posting. Check out the domain authority score of the site to make sure that it's a quality site or not. When it comes to guest posting, it's not all about the backlinks, but also about building relationships, brand recognition and to get more exposure on social media.
5.) Create Steller Content:
The next important thing in SEO is the quality content. Just focusing on keywords is not required, the content would be of high quality. If you only add many keywords on your web page, then it would be badly indexed in the Google and ultimately get downgraded by semantic indexing since your site has a bad language syntax. However, contents such as articles, blogs, and videos will improve your search engine rankings. But make sure that you have quality content along with the essential keywords with having 2 or 3 percent density within your niche. For this, you can keep up blogs or article marketing campaigns which will help you to stay at the top of the search engines.
6.) Focus On The Accurate Keyword Grouping:
One of the major mistake that the advertiser do is the wrong grouping of keywords. The site has too many keywords are the primary reason for online marketing campaign failure. For the best possible results, you need to segment the most relevant keywords into highly focused groups. By doing this, advertisers can write highly customized content for their marketing campaigns.
7.) Use Of Appropriate Titles & Meta Data:
It's very crucial to give pages with the right titles and metadata. In the past, a lot of enterprises have misused the meta description and meta keyword elements. As a matter of fact, search engines look upon them as less important but, still, it's essential to use them in a proper way. However, titles still carry a massive weight, especially when it comes to the semantic markup. The title is a declaration about what the content is all about, so always make sure your titles clearly represent the page content.
8.) Improve Your Blog Load Time:
It's the most important part when it comes to the profitable SEO campaign. If your blog takes a lot of time to load, then visitors will return to some other site and never come back again. In this way, the blog's bounce rate increases and you'll possibly lose your site traffic. You can hire professional SEO services UK to improve the blog load time as search engines prefer fast loading sites for a better user experience.