One cannot put up a "Lost Notice" up on a board to recover lost data from computers or smartphones. No one can help us but we have to help ourselves. Data loss can be of anything like graphic photographs, videos, audios, important documents, files etc. One cannot get everything printed, data being stored in devices like hard disks, pen drive, memory card, music players, digital camera can get erased all by themselves due to interference of viruses or connecting virus infected devices with your devices. The data or content loss can be precious and valuable. But there has to be some kind of file recovery software that must restore your handwork, memories.
Features:
Supports most versions of the Windows / Mac.
Supports various languages.
Recovers data regardless of how it was lost — accidental deletion of files, formatted the disk, or partitions deleted accidentally.
Can recover data from external storage devices.
Recover data using bootable media if OS doesn't start. This feature is available only in the paid version.

No one can be confident or secure regarding the safety of data so one should have back up for everything. Keep your security software updated. One should download or share files from virus free websites or devices. Connect your data with Google devices so that you can have more free space because very often data gets vanished while transferring data from one device to another in order to get more space in device. Always keep your smart phone or other devices secured with a password. To prevent the loss of your photo memories you can save your photos in google photos. Even after being so careful and updated if you still face data loss then all you can do is rely on data recovery software like EaseUS Data Recovery Wizard.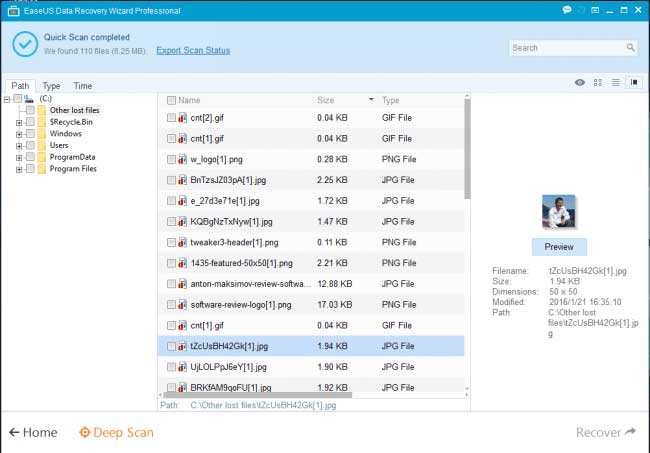 Scan: By default, a superficial scan will be done but you can choose to run a deep scan if required. You will be presented the list of file types you want to recover.
Recover: Select the files that you want and within a matter of seconds, the data will be back on your device.
EaseUS Data Recovery Wizard is the most trusted and reliable software that completely helps in recovering the data. In just 3 steps you can recover all your images, videos, valuable documents, files from any devices like hard dicks, memory card, laptop, music player. EaseUS Data Recovery Wizard also works on Partitioned and Formatted device. The recovered files remain 100% original hazel free. Launch, Scan and Recover are its 3 simple steps. After scanning the affected area the launched software will recover the software.