Magento is a king in ecommerce software niche. Being it an open source platform, it is widely acceptable and used. Today the modern shoppers are using handheld devices such as smartphones and tablets to access the Internet in most cases. Therefore, the mobile friendly design of the website is a compulsion rather than a norm.
Responsive web designing (RWD) is the most suitable technique to create completely mobile friendly websites. In the due technique, the content layout of the web page recognizes the device of the display and modify accordingly to load content and arrange in a manner to exert the excellent user experiences.
Therefore, we need skilled and experienced designers as well as programmers to create responsive themes for a website. Of course, Magento is quite complicated at its core and integration of extensions, plugins, components are not smooth sailing at first place.
Due to such technical intricacies, we cannot select any theme available on the web and spend our fortunes to create our online shop by solid efforts. We need to take careful steps to choose the right Magento responsive themes for our ecommerce project with the help of technically sound and experienced Magento developer or a team from a reputed Magento development company.
Considering the demands of the market, Magento developers has recommended some 15+ best Magento responsive themes for its patrons, and in this post, we are going to unveil it.
1.) Ultimo:

It is a fully responsive theme for all types of ecommerce stores. Its flat design is trendy and customizable. It has advanced admin module with dozens of useful features. For instance, it offers mega menu, fluid product grid, a place for a logo, branding, sliders, and most importantly it has 50+ CMS blocks to offer.
2.) SM Sport: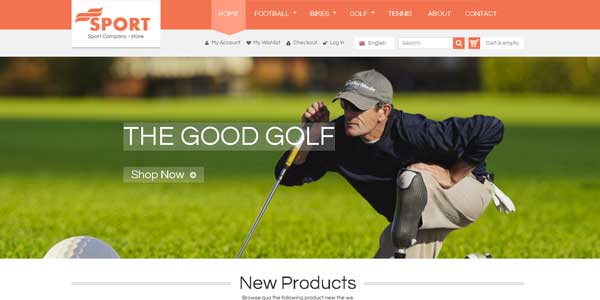 It is a premium theme with the fully responsive layout, and alluring looks on mobile devices too. It is famous as a sporty theme, but it has themes for multiple purposes. It has some distinguish features such as powerful mega menu, multiple column styles, AJAX Cart Pro, and blog supports to mention.

It is a multipurpose Magento theme with the fresh and clean design. It is the best bet when you are with an aim to beat your numerous competitors, as it offers highly unique and attractive designs with minor tweaks. Of course, it has built-in capabilities for extensive customization and powerful features. It offers smart and powerful admin dashboard and cool frontend. It is compatible with the latest releases of Magento versions.
4.) JM Hawkstore: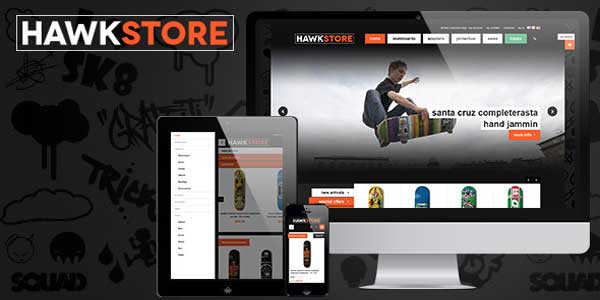 It is a pure inspiration by Street Lifestyle with flat design for Magento ecommerce store owners. It uses big flat typefaces within colorful blocks. Thus, your Magento store remains outstanding to beat your competitions. It supports a broad range of Magento extensions to bring innovative features and functionality.

M T Brave is versatile Magento theme for all kinds of Magento stores. It comes with four prime colors with responsive and flexible layouts. For customization, you have unlimited color schemes to change various design components of the theme such as background, fonts, layouts, and so on. It is a global theme with multilingual and multicurrency supports. It is highly optimized for performance and personalization, so advanced ecommerce prefers it a lot.

Today efficient content marketing is the key to success for ecommerce just like other online entities. Therefore, SM Papa is coming with blog supported responsive theme in flat design concepts. It has preset of six colors. Due to smooth navigation and structured layout, it is highly favorite in fashion, jewelry, and wedding ecommerce niches. It has 10 highly customizable static blocks to set things your ways.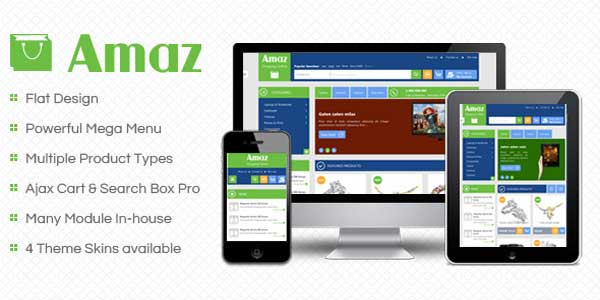 It is a pure inspiration based on Metro UI style design for big ecommerce stores with a plenty of product categories and sub-categories. The theme comes with Metro icons and harmonious colors with some great combinations to make product presentation magnificent. It offers four different themes presets and six product profiles to choose. It is rich with features such as slideshow, mega menu, advanced search box, Ajax cart, social media integration, featured product module, review module, and so many others in the raw.
8.) F2:

It reflects the latest web tendencies and becomes a stylish designer boutique theme for Magento. It has some awesome features including card-based layout, edge-to-edge slider, product banner, and featured items modules. Layout blocks have visual separation by white spaces. Navigation is the most convenient for users. It has fixed mega menu with a sidebar to provide live search, settings, and shopping cart access. It is an elegant responsive theme with attractive look & feel.

It is a responsive theme with some useful and attractive features such as a slider, global with multilingual and multicurrency support, blog, product features like zoom, categories, badges, and so on. It is with location tracking abilities with Maps. Semantic coding, PSD, documentation, and cross-browser compatibility are developer friendly features.

It is an excellent responsive Magento theme for apparel and fashion ecommerce like niches. It has a slider and Ajax search like attractive features. It is a global theme with multilingual & multicurrency supports. Other alluring features are a mega footer, product badges, grid or list view, cloud zoom, and location based Map features.

It has built with Men's clothing functionality in mind. However, it is the best fit for fashion, accessories, beauty, and somewhat similar niches for ecommerce. It is attractive though clean and minimalist by nature. It is with smart use of white space to highlight products. It has a slider as well as a carousel for attractive and effective presentation. Its header is enhanced with the mega menu and live search features. Background images become heart winner with parallax scrolling.

It is technically easy to navigate solution but with powerful features such as a built-in dropdown cart to give prompt access to selected items without jumping on a separate page for the cart win the hearts of shoppers. It offers shipping calculator, currency tools, and supports for multiple languages makes it an excellent Magento theme for ecommerce entrepreneurs. This responsive theme is optimized for mobile performance and search engine rankings.

As its name suggests, it is elegant in look & feels indeed. It has built with handmade jewelry presentation in mind. Therefore, it has fluid visual effect using HTML 5 and JavaScript effects, animation, and impressive product images with all the latest bells and whistles.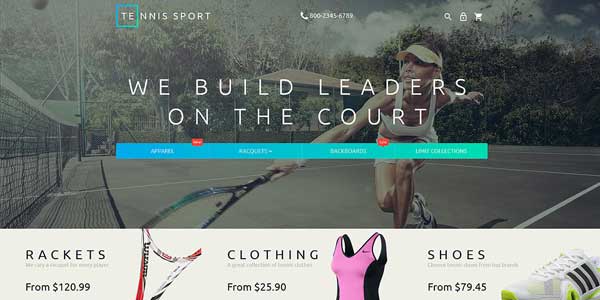 As its name suggest, it is built for sports ecommerce. Therefore, it has a comprehensive set of smart tools to help for beautiful web presentation for sports related products. With mega menu and quick navigation features place it in a modern design category. It is completely responsive and fully customizable with a powerful dashboard.

It has built with kitchen wares ecommerce in mind. Therefore, it is capable of creating feels of coziness to appealing homemakers aesthetically to buy kitchen wares. It has soft pastel colors, minimalist vintage logo, strip-shaped menu, which are adding a hue of luxury in the theme.
Conclusion:
Based on the reviews on the various responsive theme of the Magento, we can say that flat design responsive themes are trendy today and ecommerce owners prefer different themes according to their business niches.
The most sought after features in these themes are slider or carousel, mega menu, advanced search, Ajax cart, and location-aware applications. As mentioned earlier, selecting any theme for your ecommerce is not a wise step at all. One must take help of seasoned Magento developers with expertise in the latest versions of Magento to bring the most suitable theme to assure your success.