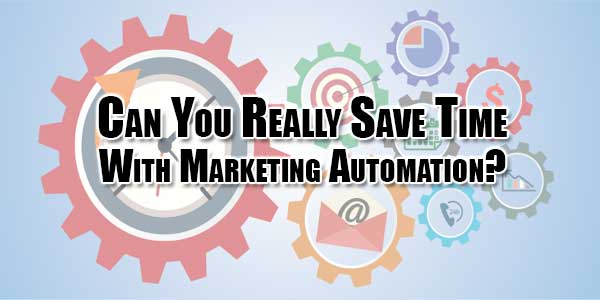 Marketing is one of the most important things to understand if you are launching or growing a business. Without an effective marketing strategy, your business will not get the exposure it needs, no matter how well you perform your service, or how innovative or desirable your products.
Automated Marketing:
These days, most people are used to being marketed to in highly targeted ways. They are used to seeing ads that are relevant to their location, age, and things they have talked about or looked up online when they use Google or Facebook, or to receiving emails about offers on products they are likely to find relevant from people they've shopped with like Amazon and eBay.
This personal touch makes it feel like these companies are not wasting their time with inappropriate products or services that aren't available where they live, and gives them a better experience. It's a win – win situation for the marketers too, because people are only likely to buy things that are relevant to them. Of course, nobody is sitting at the headquarters of these businesses figuring out exactly what Mr Jones in St Paul, Minnesota might like to buy – the whole process of generating these emails and sending them out is automated.
When you go to leave a website and a lightbox appears asking you if you'd like to join the site's newsletter mailing list, you usually get the email containing the welcome information and any free content they've offered (such as eBooks) straight away. That is because the process of signing you up is automated too. You don't have to wait for a site administrator to notice you've joined and manually send you an email with these things included.
For your business, then, starting to use automation to handle your email marketing and the onboarding of people from your website to your mailing list, can be a great idea. It saves time, and gives your users a better experience. However, while you can do a lot of time saving and effective things with software like the new marketing automation tool by GetResponse, it is important to know what marketing automation can and can't do at this point in time.
Using Automated Marketing To Save Time And Money:
As well as the examples already given of welcoming people to your subscriber list and giving them any free gifts you offered as an incentive, or sending out targeted emails about special offers, automated marketing has a number of other great labor saving uses.
One of the most powerful things you can do with it is send drip feed emails that arrive either according to a schedule, or are triggered by conditions related to the user's account. As an example, say you have a SaaS product, and you give people a free 30 day trial, hoping that they will love your product and become paying customers. You need them to see the best of your software, so during the trial, you drip feed them tutorials and helpful tips. This already helps keep it in their minds that they are trialing the product, and tells them more about what they can do with it.
You then might want to respond to different situations with different emails. As long as these are conditions your systems can pick up on, for instance that they haven't logged in in a few days, or their trial is about to expire, then you can set up an email that will be sent automatically, perhaps reminding them to check out a feature, or inviting them to call your team if they are having problems.
Some Limitations:
While automated marketing can be an excellent way to leverage your mailing list (and grow it), there are few businesses these days who thrive on email marketing automation alone. You also, in many cases, do need to make the content for your automated emails yourself – though some types of newsletter or offer emails can be automatically generated and tailored. This means that automation removes a lot of the work, but you will still need to have good marketing skills, a broader marketing mix, and be able to write or source good sales messages to get the best results.
So while automated marketing isn't a magic bullet that turns all your marketing into a no-brainer, it is still something that can get excellent results while saving time and money.