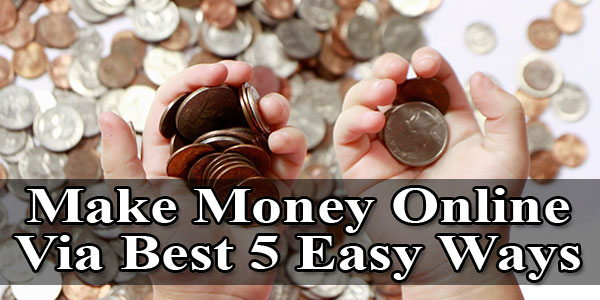 Many people earn a substantial income online by participating in online surveys, sell affiliate products, selling on eBay, writing online articles for pay, selling stock photography and others. For any individual, to earn income online, he first needs to make a list of his skills, abilities, qualifications and special interest.
For example, you're interested in customer service; you can work as a customer service representative from home. If you are skilled at creating videos then you can work with Fame box. No matter whatever you're interested in, be realistic. Making money online requires dedication, perseverance and hard work. You cannot become rich overnight. Here are the five easy ways of making money online without any investment.

1.) Participate In Online Surveys:
Over the past decade, survey sites have modified their approach towards data collection. Before when there was no internet, survey companies used to send their employees to a particular locality for collecting information. But now, with the increase in internet usage, online surveys have replaced the conventional surveys.
In the United States, leading companies spend over $6.7 billion dollars every year on research and surveys. A significant share of this amount is dedicated for online surveys, most of that money is distributed to people who complete the online surveys in the form of cash rewards or as gifts.
One need not have any special talents for participating in these surveys. It is an open offer for everyone, the user gets paid for the time he spends and the companies will know the user better and his opinions about their products and services.
Most of the survey sites are free for signing up. Beware of scam sites that force you to quit your current job after signing up. Some may even charge you money for registering. It is important to identify such sites and avoid them. You can earn some quick cash by signing up for free survey sites like join CashCrate, OpinionOutpost and SurveyClub.
2.) Sell Affiliate Products:
In affiliate marketing, you can start earning a good amount just by selling other people's products. Getting started with this kind of online job is quite easy. All you need to do is make an agreement with an online merchant like Amazon.com. Once you have finalized the agreement, you can start promoting their products by posting their ads on your website. You get paid as and when traffic and sales is directed to the retailer's website. You get paid for any of these three ways- PPC, PPS or PPL.
Signing up for affiliate programs is usually free and some merchants require you to provide the URL of your website and describe its contents as proof. As to how much money you earn from affiliate marketing depends on your efforts. A dedicated and hardworking person would certainly earn more from the program than those who simply sign up and forget about the tasks.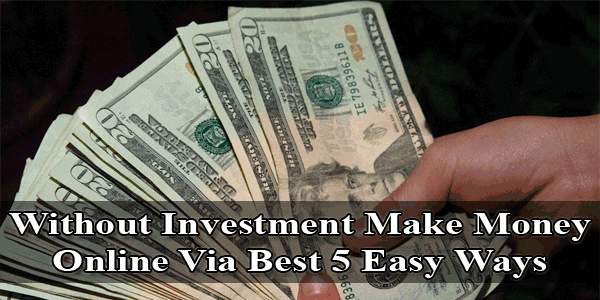 3.) Selling On eBay:
Whether your goal is earning some cash cleaning the clutter from your house or building your own small business, eBay provides the opportunity to sell your stuff to a worldwide audience. eBay isn't just a place to sell your old stuff, if you have the skills to create things people want to buy you could start your own home-based craft business, selling to customers worldwide.
Before selling, make sure you have clear photos and good description of your products. There are certain products that are not allowed to sell on eBay. To avoid violating eBay rules and the law, check eBay's prohibited products policies to be sure your item is allowed to sell. Communication with bidders and buyers is an important part of selling eBay. eBay also provides you with selling tools and resources that help you to manage and automate your selling activities.
4.) Blog For Ad Revenue:
If you own a blog with a devoted traffic it should be easy for you to leverage your readers into hard cash. AdSense is a very simple and proven site that already pays for thousands of blogs/websites across the world. Also, AdSense is owned by Google which not only makes it reliable but also trustworthy. Once you have made money from Google, you can actually trust them to pay it to you.
Finally, because the ads will be related to the content of your blog, your visitors would probably click on them. All you need to do is sign up with Google AdSense and follow their guidelines on how to place their ads. As and when a user clicks on an ad link, Google records the click and pays you for it.
5.) Sell Stock Photography:
Anyone with a decent camera and artistic skills necessary to compose and deliver quality images can try to sell their photography. Since stock photos are often used in print media, images must be of good clarity to be produced in print. Quality images featuring festivals, sporting events, groups of people and seasonal themes are in great demand. Once you have collected the photos, you can sell them to online microstock agencies such as Dreamstime, Shutterstock and iStockphoto. You receive a commission each time your photos are licensed by a buyer.
About the Author:
Brianne Walter is a freelance journalist who has been writing about mobile technology, customer relationship management and women's health for more than a decade. These days she is busy to contributes on blog.