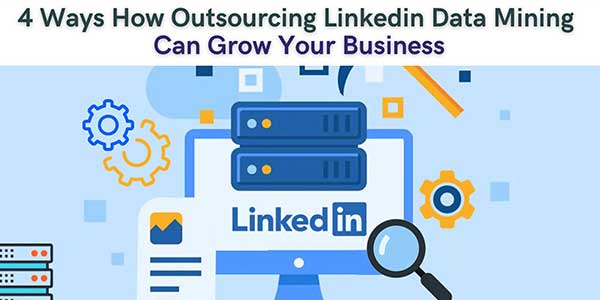 LinkedIn is a source of valuable data that can be used by companies to improve their marketing initiatives, along with attracting new customers or investors. Analyzing LinkedIn data can also provide crucial insights to create strategies for business operations. LinkedIn data mining is the process of extracting relevant data from the site. But accessing this data can be difficult and time-consuming for businesses.
Setting up an in-house department for this purpose involves complexities and can overload regular staff. Whereas outsourcing can be a sustainable and reasonable solution that can help you leverage this data. Let's discuss how LinkedIn data mining companies can be utilized for business growth.
How Can Linkedin Data Mining Be Beneficial For Your Business?
Businesses can use LinkedIn data mining to develop strategies based on rising market demands, user behaviors, upcoming trends, and emerging technologies, among other things. This can be advantageous for a business's marketing and sales operations. The following are the various benefits of LinkedIn data mining.
1.) Expansion Of The Business:
LinkedIn data mining can be incredibly beneficial for businesses looking to expand their markets or identify new opportunities. By examining the data from LinkedIn users, businesses can understand their market size and demographics, as well as how these factors are impacting industry dynamics. This information can help businesses make informed decisions about future expansions and product launches. The LinkedIn data from prospective consumers, where individuals express their choices and indulge in discussions, can help businesses strategize their future operations. It can give formidable insights into consumers and lay the foundation for improved engagement and marketing initiatives.
2.) Operations And Market Research:
LinkedIn data mining can assist in identifying specific leads for marketing campaigns by gathering data on each business's prospective customer base. Because it assists in identifying specific leads, a LinkedIn profile can be used to forecast marketing strategies. Having knowledge about demographics, employment, spending power, management structure, etc., saves time and money spent making assumptions. This information can be used in market research to find new opportunities. The data generated from respective Linkedin mining can help reach a conclusive analysis on market trends and consumer research.
How Can Linkedin Data Mining Services Help To Increase Your Business Productivity?
LinkedIn is a great resource for networking and finding new business opportunities. However, it can be difficult to extract valuable information on your own. Additionally, there are data collection ethics that you must follow and strictly adhere to data privacy guidelines. This is where LinkedIn data mining services come in handy. LinkedIn data mining services can help to increase your business productivity by providing access to large volumes of data that can be analyzed and used to improve your marketing efforts and business strategy. These services can also provide you with insights into your customer's behavior, which can help you better understand their needs..
1.) Finding The Correct Information:
LinkedIn data mining companies extract publicly available information from individual profiles and activity feeds helping businesses create robust engagement plans and marketing campaigns. This allows businesses to identify potential customers and prospects, as well as gather valuable insights into their buying habits. By understanding the demographics of their users, businesses can create more effective ad campaigns and produce more revenue.
2.) Generating Detailed Information:
LinkedIn data mining database makes it possible to access information by typing in the right keywords. For instance, if a business wants to find information about people related to the legal profession, simply typing the keyword "law" will show results like contact information on attorneys along with other available data on the subject. This is possible through keyword indexing of data. It enables businesses to find specific information quickly and easily.
3.) Building A Contacts Database:
Your outsourcing partner will be creating a database of relevant business contacts. LinkedIn data mining will be used to extract publicly available data of these prospective customers and make it readily available for business operations. It will help you engage with people who might be interested in your products or services. Additionally, this information can also be valuable for networking purposes.
4.) Data Preservation:
Your outsourcing partner can help archive LinkedIn data that can be used for research purposes. It helps businesses archive email contacts, company information, and more. This is particularly beneficial if you need to keep track of old data, share it with other professionals, or protect it for future needs.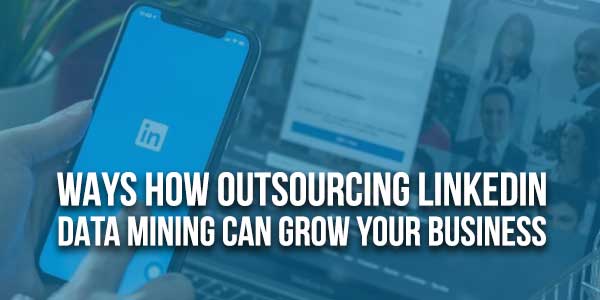 How To Find The Right Linkedin Data Mining Company For Your Business?
If you wish to outsource data mining services for LinkedIn then it can be an incredibly beneficial undertaking for businesses of all sizes. By hiring a reputable data mining company, you can ensure the accuracy and quality of your data while maintaining control over your process. However, if you're in the market for a data mining company, it can be hard to know where to start. There are so many options out there, and it can be difficult to decide which one is right for your business.
1.) Plan The Data Needs And Objectives:
Plan what you need from a data mining company. What specific features or insights do you need? Once you have a clear idea of what you're looking for, start searching for companies that offer those services.
2.) Consider Their Potential To Meet Your Needs:
Once you've narrowed down your search, it's time to evaluate each company's capabilities. Do they have experience with the type of data you need? Have they worked with similar types of data in the past? Is their technology up-to-date and user-friendly? Evaluating each company's abilities is an important part of choosing the right one for your needs.
3.) Prepare A Budget:
Finally, before signing any contracts or making any commitments, be sure to discuss the plan and budget with each candidate. Make sure both sides are on board with what is being requested and agree on how much will be spent.
Take Away:
Today millions of people use LinkedIn to connect with friends, colleagues, and other professionals. However, tracking all of this activity can be difficult as you should respect the privacy limitations and collect only publicly available data. Any unethical data collection might lead to legal action and penalisation. LinkedIn data mining services can provide you with such detailed and ethical information about your connections. This information can include the names, job titles, locations, and email addresses of your contacts. By mining such data, businesses can gain insights that can be used to make informed decisions about their marketing, sales, and other operations. LinkedIn data mining can also help to identify trends in user behavior and future market demands. This information can be helpful in planning for growth and identifying areas of focus for your business.