Since the launch of Magento in 2008, it has become the backbone of the e-Commerce industry. In recent years, with the launch of different versions and updates in June 2020, Magento 1 updates and security has been stopped. Migrating to the latest version of Magento 2 has therefore become vital for users. But for many, this change seems quite daunting and has been putting off for a while. However, with the Magento 2 migration checklist in place, the process can be hassle-free for you.
You might be wondering, knowing fact how challenging it is to opt for Magento 1 to Magento 2 migration, then also why it should be done. As a store owner, it is vital to have a platform that is secured and well-supported. With Magento 1 no longer offering these two primary benefits, it is time to change. Furthermore, the Magento 2 version comes with much more benefits than Magento 1. Some of them are:
Hassle-free shopping experience with improved speed
Increased ability handling for a high volume of traffic
Robust data encryption for next-level security
Interactive mobile UX and response for faster loading
Enhanced SEO with Magento 2 SEO plugin
Improved & upgraded version for customizable checkout process
Availability of effortless integration with third-party extensions
Streamlined admin dashboard for simplifying the workflow
Customized marketing automation for boosting sales
Reporting made easy with commerce reporting analytics
After coming across the various benefits of Magento2 if you are still confused with the thought of migration to Magento 2 from Magento 1 then read the figures and trends that can help you make a profitable choice for your business.
Some Figures And Trends About Magento 2:
Let's see how the software performs in the market. Magento 2 is recognized as the most reliable and one of the hands-on practice e-commerce software all around the globe. Magento shares 12% of the e-commerce market globally, which is second to WooCommerce.
Magento 2 will be helping shoppers with voice command shopping. With digital assistance being on the rise, voice-searching is becoming the new consumer behaviour. It is expected, 50% of the shopping will be done with voice searches by 2022. Magento 2 will help you with the feature.
Chatbots and AI integration shopping experiences are rising, with 83% of consumers looking for a personalised shopping experience with some help. With the easy-to-integrate chatbots and AI, you and the consumer can experience a better navigation system with the much-needed data. With Magento 2, you can easily integrate these options to give your customers a better shopping experience.
These figures and trends indicate that Magento 2 is the future for your business. It is hence vital that you have a Magento 2 migration plan. What do you need to do or know about the Magento 2 migration?
About Magento 2 Migration:
Since it has already been established that Magento 2 is better than Magento 1, there are two factors that you need to bear in mind when planning the migration. So, here are the important points i.e. time and cost to be considered when migrating from Magento 1 to Magento 2.
Time:
The migration from Magento 1 to Magento 2 can take up to one week to six months of duration. Depending on your eCommerce system, the database size, custom implementation, and complicated third-party integration will determine the time taken.
Additionally, Magento 2 is a different approach for the online business with a unique and robust CMS system, which does not resemble Magento 1.
Cost:
The platform is quite complex compared to the previous version; hence it does not come cheap. The Magento 2 migration requiring several steps and hours for the development team to spend in the work results in making the Cost higher for the migration.
A simple website will take 90 to 210 hours for migration. An experienced developer will charge as per the hour spent in the process. It is better to opt for magento 2 migration services to ensure a seamless process.
Since the migration process is challenging, it is better to have a Magento 2 migration checklist, making the change less perplexing.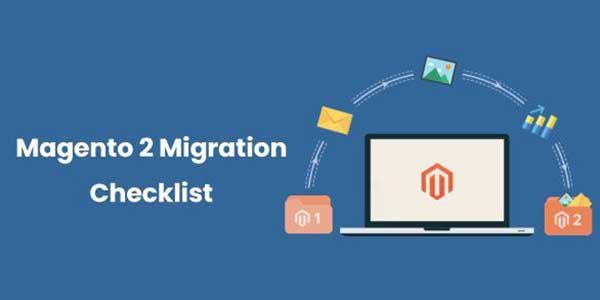 A Checklist For Magento 2 Migration:
Now that the decision is made for you to migrate, here is a seven-step Magento 1 to Magento 2 migration checklist.
1.) Develop The Plan For Migration:
In this step, the development team, project management, and stakeholders plan the Magento 2 migration. During this phase, one needs to set a reasonable deadline for the process to complete. At this juncture, the process can be divided into three phases:
Details about the data migration
Specification for the project
Planning the project.
2.) Getting the Environment Ready For Testing:
On an allocated server, perform every phase of the migration. Then, with a separate environment in place, your existing store will not have any downtime. Also, to save time, develop the environment for the tests before writing the code.
Before implementing, make sure everything is ready, and it can be easily done with the default Magento 2 platform.
3.) New Extensions:
The extensions used in M1 are incompatible with M2; hence you have to visit the marketplace for an extension. Look for a version of the M1 extension that works for M2; if there is none, install a similar functioning extension or develop a customised extension.
At this step, you also have to determine the third-party system integrations so that they can function efficiently with Magento 2.
4.) Migrating the Data:
Use Magento Data Migration Tool for this essential and crucial step. Make sure website data such as store details, products, categories, the configuration of the store, orders along settings should be moved. The tool is robust and will help you with the transfer. However, it cannot transfer the layouts, custom code, files, media, and control access configurations.
5.) Theme Designing:
With Magento 2, your old Magento 1 theme will not be compatible. Hence, you can opt for a customised theme and design one that aligns with your store when you migrate. With customisation, you can create all the functional features and visuals you desire. If in case you're running short of time, then go for a ready-made Magento theme. But, remember it won't be unique.
6.) Test & Synchronize:
Configuring the hosting server as per the system requirement of Magento 2 is essential for testing. Once that is complete, you have to synchronize the final database to ensure nothing is left behind during the migration.
Put your Magento 1 on maintenance mode, clean the cache, then start Magento 2 Cron job and ensure everything is tested and working fine before the launch.
7.) Make It Go Live:
Once every step is executed correctly by the developers, you are ready to launch your site on the Magento 2 store and go live.
Final Words:
By using the Magento 2 migration checklist, you will not only have a smooth transition, but with Magento 2, you will make your eCommerce store future-ready. Since this is a complex process hiring a professional to do the job is always advisable. Let us know through the comment section if you found this blog post helpful.