Are you planning to design your first website for your business? When it comes to web designing it matters a lot because the first thing anyone will notice about your website is how it is designed. You can choose your web design from theme or custom. Of course, custom web designing gives you so many features to design a unique website. The best web design company in the business also uses custom web designing that will make them unique.
Sometimes it could get tough to decide whether you should choose from theme design or custom design. But your web design will directly affect the user experience. Your design should be eye-catching and business-driven. If your web design doesn't match with your business idea then how will someone know what your website is for? Your web design also affects SEO. A well-designed website will have a better user experience than a bad one. Let's look into what is custom web design and themes.
Themes Design:
The theme design is pretty common for most web designers. For example, you downloaded or brought a theme design using a plugin or any software the chances of using that theme by other web designers are 3 out of 10. You want your website to look unique from the rest of the website but if the same design is used by other designers, then you are losing that uniqueness in your web design.
The theme is simple and used by beginners if you are designing your first web design then you will probably go with some common themes or template design for your website. Moreover, if you want your website to be highly secure then theme design is probably not a good choice for you as there are already many users who are using the same design for their website, and the possibilities that the theme might be carrying some malware of virus that will affect your website and it can also get corrupted or the information that has been stored in your website might lose.
The theme is good if you want to try designing a website for the first time but if you want to go or add some advanced features to your website you should go with custom web design as it offers so much to do with your website to make it unique and the way you want your website to look like.
There is also certain limitation if you are choosing a theme design for your website. You can customize few things but that will hardly do any difference to your web design. It will also affect your loading speed and as most other web designers are also using the same plugin or template because they have downloaded it from somewhere like you so your website will not be SEO friendly.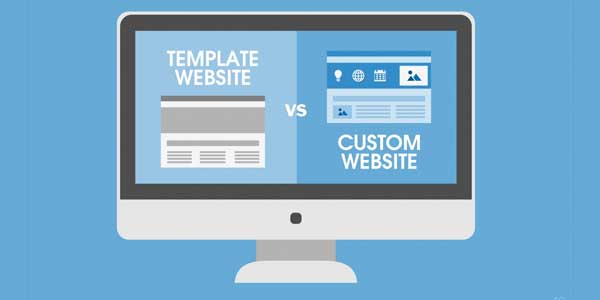 Custom Web Design:
The name tells in itself custom web design gives you all the freedom to design your website the way you want it to be. Change color, background, font, add images, and a lot more. You can customize your website for your audience and according to your business need.
The best thing about custom web design is that you can develop your unique website using all the features and customize it the way you want it to be. Custom web design also provides security to your website and is SEO-friendly. You have the full authority over your website design how you want your website to function and look and provide a better user experience.
Most web designers use custom web design to give them the uniqueness of their website and you can even change or customize your web design later. You want to present your business and want your customer to see your vision and ideas? Using custom web design, you can interpret your vision into reality. You can plan for your web design to gain more leads in your business. If you are designing your website, you probably want it to be secure for you and your customers as you will store all your data and user information on your website and you want that data to stay safe and secure, custom web design will provide security.
So, Which One Should You Choose?
The real question is which one you should be choosing while designing your webpage? If you are a beginner and you have very little or no knowledge about web design you should probably go with themes as it is easy and doesn't require too much budget. If you want to save time or if you want to experiment with your website design theme is the best choice for you but remember you are limited with your customization and it will get outdated.
But if you want to create something unique for your web design to explore all the possibilities and customized and design your webpage the way you want custom web design is the best option for you and of course, if you have money to spend on your webpage. It gives you so many opportunities for your business. You can expect more users and will increase your web trafficking.
So, if you are planning to design a webpage for your brand or for any purpose you know which one is the right option for you. The best web design company hires the best web designer who knows every aspect of web designing to design the best website. If you want to design a webpage for your business choose the best designer as there are already so many web designers some are amateur and some are professional. Your budget is what is required to invest in custom web design.