No matter what type of industry your business is in, it is important that you keep all of your equipment safe. Meat slicers, wood cutters, ovens and document shredders are just a few examples of some of the equipment that you may have to be mindful of for the sake of your employees depending on your business. The following are some ways that you can assist by helping to ensures that the equipment does stay safe:
Clean the Equipment Regularly
The first rule and one of the most important rules of keeping equipment safe for employees and customers alike is to clean it regularly. Cleaning and sanitizing the equipment at regular intervals keeps it free of harmful germs and diseases. Keeping your equipment free of harmful germs and diseases can keep your business free of lawsuits.
Shut Down Problematic Units
Never continue to use a piece of equipment that is malfunctioning regularly. You should always shut down such an item as quickly as possible and do your best to find a replacement. Problems usually do not go away by themselves, and continuing to run the equipment is a sure way to invite the problem to get worse and it can also put your employees in danger.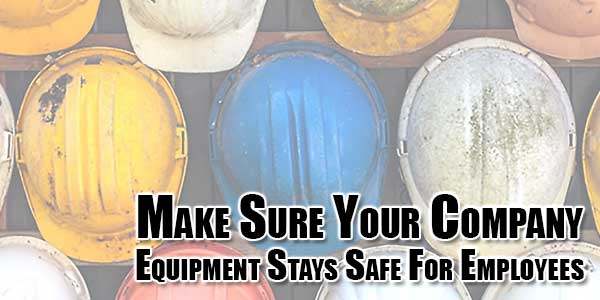 Replace Equipment at a Reasonable Time
It is a good idea to replace equipment that is outdated or very old. It may be that the equipment has run its course and will give you nothing but problems until the end. In that case, you will continue to lose money until you purchase things like a new unit, boiler or even new lifting equipment. You can apply for special financing or some other help paying for a new unit. New equipment loans and financing options are usually abundant for business owners. Some companies will even allow you to rent the equipment if you need to do that.
Call the Manufacturer When Necessary
Finally, you should always call the manufacturer the moment that you have issues with the work site equipment. You could reference the user's manual first if you have it. If not, then you would call the phone number that is associated with the product. Most manufacturers engrave their phone numbers on the equipment, or they place a sticker on it.
Your work site should run smoothly if you heed all of the above-mentioned warnings. You will save your business the trouble of embarrassing lawsuits and monetary losses. You can never go wrong if you always play it safe by tending to issues as soon as they occur.