1.) Mobile, Mobile & Mobile
People prefer to search with mobile rather than desktop and laptop so mobile search reached more than desktop queries for the very first time in 2015, so you can be prepared to see this phenomenon because access to mobile devices and associated technology with mobile becomes a lot more available as well as easy to use. Mobile devices have officially overtaken desktop computers as the most comfortable and easy to get online with mobile.
From this Statista chart its proven that mobile users are increasing day by day and I can definitely say that mobile friendly website necessary for good ranking, so if you don't have a mobile friendly website then the first thing you required is responsive web design for your web portal.
Google also provides a Mobile-Friendly Test, where you can check your website and this tool will provide information about your website like website is mobile-friendly or not & which necessary change is required for your website.
2.) Rise Of Voice Search:
What Is Voice Search?
As you all know, with voice search you can ask a question or query to your mobile and mobile will give you result. It is very important to notice that voice search and text search are the similar with regards to exactly how the search engines are showing the search result of your query. The simple difference between voice search and text search is voice search is more convinced & less complicated in compared to text search, you just have to do is ask a question to your mobile phone's voice search program, as opposed to opening the web browser and open search engine and type a query typing in a search bar.
The future of voice search is bright and it is actually rising and it will surely transform search engine optimization. Even I am using voice search as well as I know many of my friends also following voice search. The reason is why to type with your fingers when you are able to talk with your mobile & it will provide your result. People who are comfortable with voice search, are always preferred voice search in comparing to type search. Don't you think so its really easy?
Let's look at the main reasons for global mobile user access voice search.


55% of teen & 41% of adults use voice search more than once a day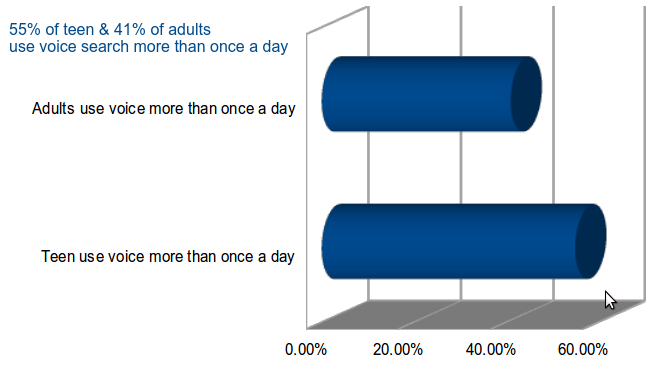 Matt cutt vedio on voice search
An important point to notice that, If voice search is rising, then long tail keywords also become more popular because people who users voice search always search with how, where, what and etc.
3.) Schema Markup:
Search engines are displaying reviews, images & links in the result of a search query because with these types of data searcher will know that of what is actually on a web page and also website before they visit it.
A new analysis discloses the data that very few websites, only 0.3 % are utilizing the Schema rich snippet and at the same time over one third 36.6% of Google search results include this kind of Schema rich snippet according to search metrics.
You can use various schema markup like local, reviews, apps, restaurants and many more according to your business. Applying schema markup will be helpful to improve your website CTR (cost through rate), In 2016, definitely it will be an important part of on page SEO.
4.) Social Media Will Be More Popular:
Usage of social media is growing day by day, people can use social media at any time with own convenience.
Number of Social media user according to statista.

As the popularity of social websites continually grow up and google also creates business relationships with social media website. Google has deal with Facebook and Twitter for search news item and we will come across with their news content in search listing
5.) Local Search Engine Optimization Are Definitely More Significant Compared To Past Years:
Local Search engine optimization is undoubtedly essential at the same time in 2016 it is going to be more significant as compared to ever before. Local will give you the most effective approaches to identify your own target audience within your area. Always make sure you're prepared with your latest local SEO keywords and kept updated information local website like google local, yelp, bing business listing and etc.