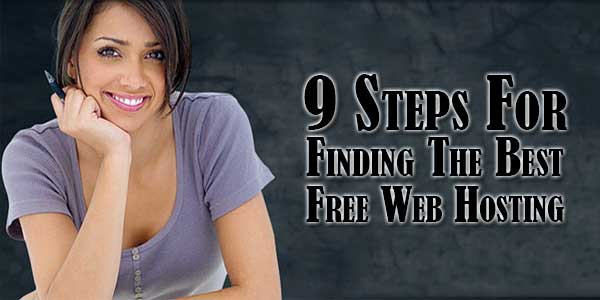 There are many free web hosting companies. They maintain the servers that store your website so that it will be available on the Internet. Free web hosting can be a good option for those who don't have money for hosting, but who want to create their own website. However, it is not easy to determine which free hosting to choose. There are several facts you need to consider before you commit to one. Though it is free, you need to consider some factors so that your website will work properly. Here are some things to think about.
1.) Determine Your Website Type:
Initially to you need to determine what type of website you want. There are several types of websites, such as personal, business, e-commerce, service, etc. Personal websites include personal homepages, blogs, resumes, or portfolios. If you need an e-commerce site, you will be better off going with a paid web host because most free web hosts don't allow "shopping cart" programming, and they have restrictions on disk space and bandwidth. So before choosing any free hosting, you need to determine what your website will need so you can make sure they offer the best features for your website.
2.) Determine Your Required Disk space:
After determining your website type, you will have an idea about how much space you need for your website contents. The rule of thumb is to get as much disk space as you can. Disk space varies from company to company when it comes to free hosting. Most offer an average of 20 MB to 1 GB. Since there are limitations on storage, you need to ensure your files won't exceed the provider's limits on file size.
Know the Restrictions. The following tips will help you determine storage needs.
3.) Advertisement:
First decide whether you want to allow advertisements on your site or not. Most free hosting providers will place their advertisements and banners on your website if you use the free hosting service. Some, however, don't have advertisements, but they put several restrictions on design flexibility and your access to their resources on the server. Make sure you are well aware of the restrictions and the terms of advertising. If you don't like the advertising, choose paid hosting or another free host that doesn't force advertisements as long as you are comfortable with the terms of server access.
4.) Programming Flexibility:
Determine what type of programming flexibility you want. Many free web hosting providers only allow static HTML pages. Some allow other web programming allowances but make you have ads placed on your website in exchange or otherwise limit the resources. The types of programming tools you might want are PHP, along with MySQL, for allowing better content management. Advanced programming features make it easy for users to contact you through a web form or login to their account. If you want this feature, choose a provider that doesn't restrict programming tools.
5.) Full Domain / Sub-Domain:
Determine whether you want your own customized domain name or a sub-domain name. Most free web hosts force you to use a sub-domain which includes the host's name in it. Like, www.[my name].hostcompany.com.  Unless you pay, you will be subject to the domain name structure of the web hosting company.
6.) Customer Support:
You need to confirm the customer support level you require. Free hosting providers give some customer support like knowledge bases, online forums, email support, etc. However, paid plans provide more options. You will need to find out what level of free technical support and phone support they offer.
7.) Technical Reviews:
Search for information on technical review sites like Free-Webhosts.com or FreeWebSpace.org to get a lists of free hosts and their plans. This will help you compare the features offered, as mentioned previously. Also, search for service based on your city's Chamber of Commerce website or your local Better Business Bureau.
8.) Customer Reviews:
Research customer reviews on each free web host. Look for reviews such as excellence service and features or for what they failed to provide. However, keep in mind that some reviewers may have had an uncommon experience with the free host, so look at review patterns and get an overall opinion of the host.
9.) Contact The Company:
After deciding which host you want to use, contact the company over the phone or by email. Submit your requirements so that they can verify whether it matches their free hosting plan. Signing up for services on the website is a better option than speaking with the sales person of the company in order to ensure that the company will meet your needs.
After considering all of these restrictions and limitations, you will be able to find a good free hosting site that meets most of your needs.