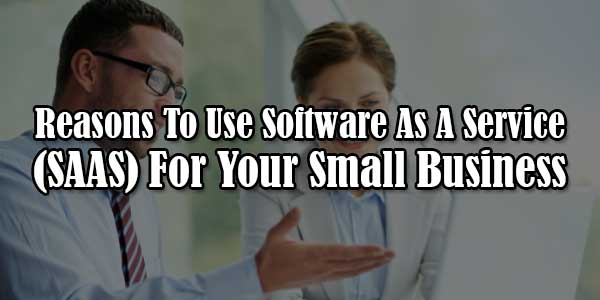 Software as a service, also called SaaS for short, represents an alternative solution to the regular software installation that occurs in the business environment. The old traditional models included the building of a server network, installation of applications on it and the process of network configuration. Using SaaS, the user does not pay or employ any full software package.
Instead, the user enters a rental system where they are authorized to use all the software they need and pay for access to these applications which are placed on a cloud service and operated by cloud computing methods. The SaaS is purchased for a time period, which can be monthly or yearly, and has several important advantages when it is compared to the traditional model. Here are those exact benefits:
Reduced Time To Benefit:
Unlike the traditional systems, SaaS provides software and all its applications already operational, with an installation and configuration process already taken care of. The user has the clear advantage of the placement of SaaS servers on cloud computing networks, which will allow them full access in a matter of hours, with applications ready to be used. This reduced significantly any time spent in the process of installation and configuration, which in turn reduces a chance of finding issues and problems that would stop the same software being deployed in a traditional model.
Lower Costs:
SaaS is different than the traditional model when it comes to costs because it uses shared cloud computing environment. Here, both hardware and software costs and licenses are much lower when they are compared with the traditional model. SaaS also has an additional advantage because it small and medium size businesses can use an application that they otherwise simply could not afford. Along with small maintained costs, SaaS is definitely the most affordable solution.
Scalability And Integration:
Solutions that use the SaaS approach are located in the cloud environment and use cloud computing in great measure. This means that users do not have to purchase hardware elements like servers, or the software applications they operate. Because of this, any growth can be facilitated by a SaaS solution which houses full scalability and integration features in its offer.
New Releases (Upgrades):
It is a regular practice of SaaS providers to upgrade their offer and constantly provide new possibilities to their users and customers. This is possible because of the fact that these upgrades are reasonably cheap compared to traditional models. By using cloud computing, a SaaS solution provider can upgrade the entire structure piece by piece, without causing any difficulties to their users. In traditional models, users were expected to constantly look for and buy new upgrades, which is no longer the case with SaaS solutions.
Easy To Use And Perform Proof Of Concepts:
SaaS offerings can be used in a very easy manner, including samples and best practice solutions. This way, users can have their proof of concept procedures and test the software possibilities in an equally easy manner for current and future features. SaaS and its cloud computing capacity also allow for installing more than one version of a software package, which allows for smooth transitions.
With all these benefits, it is clear that using SaaS and cloud computing solution is definitely a big leap from the traditional software models. With them, a business of any size can get a system that will provide more abilities and smaller costs, all at the same time.