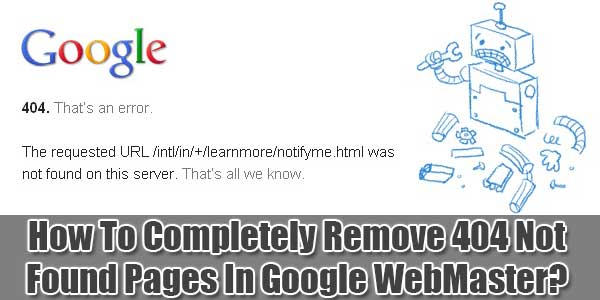 The 404 or Not Found error message is an HTTP standard response code indicating that the client was able to communicate with a given server, but the server could not find what was requested.The web site hosting server will typically generate a "404 Not Found" web page when a user attempts to follow a broken or dead link; hence the 404 error is one of the most recognizable errors users can find on the web. If your blog/site have this then Google will keep crawling those and will always show you the warning so its time to get rid of that warning.
What Is A 404 Not Found Error?
Google discovers content by following links from one page to another. Generally, a Not Found status error (usually a 404 HTTP status code) is returned when Googlebot attempts to visit a page that doesn't exist—either because you deleted or renamed it without redirecting the old URL to a new page, or because of a typo in a link.
How To Solve These Errors First?
Generally, 404 errors don't impact your site's ranking in Google, and you can safely ignore them. Typically, they are caused by typos, misconfigurations (for example, for links that are automatically generated by a content management system) or by Google's increased efforts to recognize and crawl links in embedded content such as JavaScript. Here are some pointers to help you investigate:
See where invalid links are coming from by viewing the Linked from these pages section, which you reach by clicking the URL.
Fix or delete links that from your own site.
Capture intended traffic from misspelled links on other sites with 301 redirects.
For example, a misspelling of a legitimate URL (www.example.com/redshuz instead of www.example.com/redshoes) probably happens when someone intended to link to your site and simply made a typo. In this case, you can capture that misspelled URL in your server configuration and create a 301 redirect to the correct URL. You can also contact the webmaster of a site with an incorrect link, and ask for the link to be updated or removed.
404s are a perfectly normal (and in many ways desirable) part of the web. You will likely never be able to control every link to your site, or resolve every 404 error listed in Webmaster Tools. Instead, check the top-ranking issues, fix those if possible, and then move on.
How To Completely Remove 404 Not Found Pages In Google WebMaster?
To completely remove an entire page from Google search results:
Step 1:) On the Webmaster Tools home page, click the site you want.
Step 2:) On the Dashboard, click Google Index on the left-hand menu.
Step 3:) Click Remove URLs.
Step 4:) Click New removal request.
Step 5:) Type the URL of the page you want removed from search results (not the Google search results URL or cached page URL), and then click Continue. How to find the right URL. The URL is case-sensitive—use exactly the same characters and capitalization that the site uses.
Step 6:) Click Yes, remove this page.
Step 7:) Click Submit Request.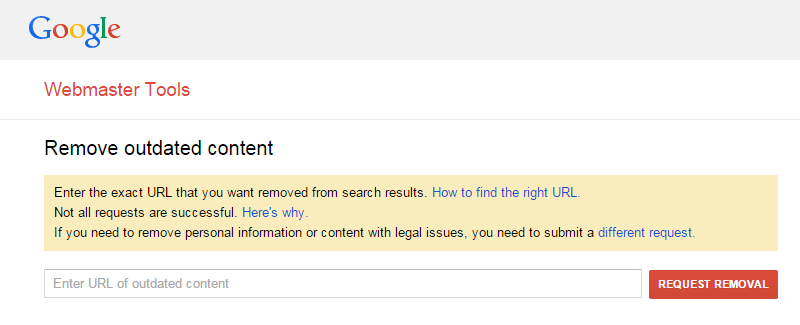 Important: To ensure your content is permanently removed, you need to do one of the following within 90 days of requesting removal. Otherwise, your content may later reappear in search results. (More information about blocking Google.)
If the page no longer exists, make sure that the server returns a 404 (Not Found) or 410 (Gone) HTTP status code. Non-HTML file (like PDFs) should be completely removed from your server.
If the page still exists, use robots.txt to prevent Google from crawling it. Even if a URL is disallowed by robots.txt we may still index the page if we find its URL on another site. However, we won't index the page if it's blocked in robots.txt and there is an active URL removal request for the page.
Last Words:
This is what we have and shared in easy steps for newbies so that they can easily know how it works. Stay with us because we are going to share a whole guide step by step about Google SEO and make it easy for you. If you liked it then share it and be with us to get next tutorial. If you have any problem then feel free to ask us. We will help you with what we can or have.